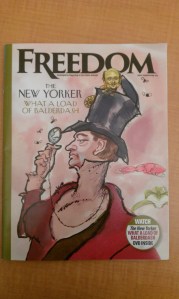 Three volunteers for the Church of Scientology's investigative magazine Freedom are outside Conde Nast headquarters 4 Times Square right now, handing out a pamphlet with a DVD insert that responds to Lawrence Wright's February piece, "Paul Haggis vs. the Church of Scientology."
The cover is a mock Eustace Tilley character that looks like Lawrence Wright, with a small green Paul Haggis lizard coming out of his top hat.
"The New Yorker, What a Load of Balderdash!" it says.
The volunteers declined to give The Observer a comment or their names and said more information could be found online.
Among many other allegations we don't have time to sift through, the magazine claims that Mr. Haggis was "duped" by Mr. Wright, thinking the piece would be a profile of him pegged to his latest movie release. The story was shelved in the fall, after the Church returned the famous 971 fact-checking questions with 40 binders of materials, and was resuscitated after Mr. Wright accumulated some buzz for a book version of the unpublished piece at the Frankfurt Book Fair, it claims.
Village Voice editor Tony Ortega consulted former Scientology spokesperson Mark Rinder about the publication last night:
"They're hoping that you or me or Larry Wright will see this and simply give up," he said. "But the real public for those things is [Church of Scientology leader] David Miscavige. He looks at them and chuckles. And he has spent hours and hours talking about the New Yorker and Larry Wright and Paul Haggis and Marty Rathbun and Mike Rinder. And it's all transcribed. And it gets distributed around to all the minions in OSA or wherever, and they then try to do what COB [Miscavige] said. So he effectively wrote half of that."