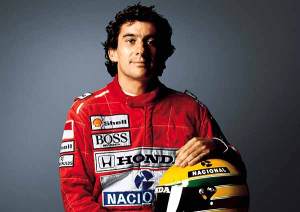 Professional car racing, like any dangerous sport, tends to attract people who are daring, confident and skilled. Ayrton Senna, the Brazilian Formula One driver who died at the age of 34 during the 1994 San Marino Grand Prix, was no different. Strikingly handsome, charming and ambitious, Senna makes for a captivating screen presence—an ill-fated matinee idol striding purposefully toward his untimely death in endless, fuzzy clips of archival footage. But while he lived quite literally in the fast lane, the new documentary about his life, which won the World Cinema Audience Award at Sundance in January, drags. Senna's accomplishments are impressive, but his story seems more suited to an ESPN special than a feature-length film. As long stretches of reverent but irrelevant footage unspool onscreen, it's hard not to wonder, Why now? Why him?
Senna was born in São Paulo into a wealthy family. Naturally athletic and gear-headed, he began go-kart racing at age 13. But director Asif Kapadia doesn't dwell on these early years, leaping instead to the 1984 Monaco Grand Prix that established Senna as a rising star of the Formula One franchise. In driving rain, Senna recovered from a slow start in "a car that was not going to win races" to pass every competitor on the track, including frontrunner Alain Prost—although a red flag caused final positions to default to an earlier lap, in which Prost was still leading. Senna took second place in Monaco, but went on to win six Grands Prix over the next three seasons, after which he joined Mr. Prost on the McLaren team (in Formula One, drivers partner with car manufacturers, sort of like baseball franchises, except that in racing members of the same "team" are still in competition with each other).
In the case of Senna and Prost, the competition was particularly bitter, and a good half of the film is devoted to the rivalry between the two racing stars. At the 1988 Portuguese Grand Prix, Senna almost forced Prost off the track, resulting in a warning from the FIA. The following year, at the Japanese Grand Prix, the two men collided on an escape road after Prost cut off his teammate on a sharp turn. Senna rejoined the race and won, only to be disqualified by the FIA for skipping a small portion of the track in his attempt to get his car into the pit for repairs. His license was suspended for six months and he was forced to pay a $100,000 fine. The footage used in the film strongly suggests that this disqualification was a direct result of a complaint by Prost.
The diminutive Frenchman certainly looked the part of the antagonist, even if his motives fell short of true malice. Standing a good six inches shorter than the strapping Senna, with a crooked nose and sad, watery eyes, Mr. Prost had no chance of upstaging the handsome Brazilian no matter how many races he won. But despite Mr. Kapadia's best efforts, the rivalry never reaches the dramatic heights necessary to justify the amount of time he spends recapping it.
It doesn't help that Senna appears to have had no other struggles on or off the race track. He loved his family, dated a string of models and generally enjoyed the adoration of the masses. He gave money to help poor children and continually expressed his deep faith in God. There were no injuries, no arrests, no drugs, no torrid affairs—none of the kinds of things that celebrity documentaries feed off of. And while Senna's early death certainly qualifies him as a tragic, almost mythical hero, there is simply not enough material to make a compelling movie, even though Mr. Kapadia appears to have used every last frame of footage from the Formula One archives (there is, literally, not a single second of Senna that takes place in modern day, as interviews are presented as voice-overs, often, and to somewhat confusing effect, with subtitles).
A few sequences almost make up for the rest of the film's lack of momentum. First, Senna's emotional hometown win at the Brazilian Grand Prix in 1991 is made all the more heartbreaking by the fact that, thanks to painful muscle spasms, he can barely lift his trophy over his head. And the extended build-up to his fatal last race on May 1, 1994, finally jump-starts the dramatic tension that Senna so desperately needs—over an hour too late.
The days leading up to the crash seem overwhelmingly ominous in retrospect. On April 29, Rubens Barrichello, a fellow Brazilian driver, crashed during a qualifying session, breaking his nose and arm. On April 30, in another qualifying round, Austrian driver Roland Ratzenberger was killed when his car careered into a concrete wall. Senna was visibly devastated by these accidents, and his then-boss Frank Williams (of Williams-Renault, the team to which Senna switched after McLaren) recalls in a voice-over that he told Senna to quit and go fishing.
In footage from the day of the crash, Senna looks troubled as he gets into his car—he clearly had reservations about going through with the race—and knowing what comes next makes it hard to watch. Point-of-view footage taken from inside Senna's car is used throughout the film, but when Mr. Kapadia uses it here it is particularly disturbing. As the car whines down the San Marino course at breakneck speed, there is nothing to do but wince, preparing for the moment of impact.
If only the rest of the movie were half as gripping.
Running time: 106 minutes
Written by Manish Pandey
Directed by Asif Kapadia
Starring Ayrton Senna, Alain Prost, Frank Williams
2/4
ulamarche@observer.com