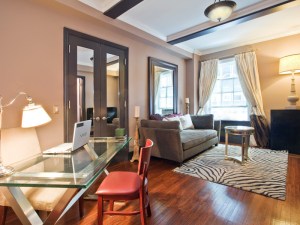 Philip Durocher has stepped behind Rachel Uchitel's velvet rope!
As The Observer reported earlier this month, Ms. Uchitel's Park Avenue apartment had gone into contract. The deal for the former club promoter and Tiger Woods woman's co-op at 77 Park Avenue cleared city records today, and the deed shows that Mr. Durocher, of Warren, N.J., is the proud owner of her redecorated home at The Griffon.
Mr. Durocher appears to be a V.P. at Colgate Palmolive, which would make him the second senior member of the company to purchase property in the city this summer.
The place sold for $1.95 million, the asking price listed by Sotheby's agent Kate Meckler. Although Ms. Uchitel bought it for $1.625 million, it was unclear if she had made any profit on the flip as she put a significant amount of work into the place.
"It was completely gut renovated," Ms. Meckler told The Observer. "It was in triple mint condition, of course," she added, mentioning that Mr. Durocher was attracted to the property's layout and tranquility.
eknutsen@observer.com