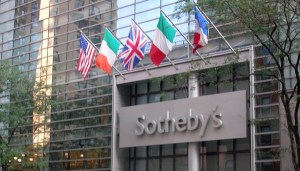 Sotheby's announced that its total sales reached $3.4 billion in the first half of this year, an all-time record for the house that was strong enough to best its rival Christie's, which last month reported about $3.2 billion worth of sales during that time period.
The house also set a record for quarterly net income, stating that it had made $129.7 million in the second quarter of this year, a 54 percent increase over last year's performance in that quarter. Its first quarter income was almost as strong, coming in at $127.2 million, a 48 percent increase over last year's period.
Since Christie's is privately held, it does not release reports on its income, so a side-by-side comparison in that category is not possible.
Sotheby's record hauls were achieved even with a few slight drags on its balance sheet. Its commission margin fell, dropping to 16.4 percent for the first two quarters, down from above 18 percent last year, as it fought to compete with other firms. In addition, salaries increased by more than 20 percent over last year's numbers, as certain financial incentives, linked with performance, kicked in over the course of the six-month period.
Sotheby's is currently involved in a labor dispute with its unionized art handlers, who allege that the house is trying to cut back on hours and legal protections at a time during when its business is thriving. That argument seems likely to arise again with news of these record profits.