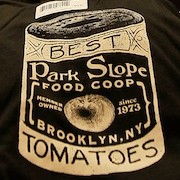 Israel and the Park Slope Food Co-op have a lot in common. Both were founded in part by Jewish socialists. Both are governed by a raucous democracy with laws and rituals to rival the Talmud. Both have a soft spot for hummus and couscous.
And now both are plagued by the Palestinian question.
Last week, the co-op held its first open discussion about whether or not to endorse B.D.S., an international movement that calls for the boycott, divestment and sanctioning of Israeli products and companies. Supporters see B.D.S. as a nonviolent way to attack Israel's occupation of the Palestinian territories, while critics claim the movement stinks of anti-Semitism. The issue has been batted around the co-op for years, from the bulk aisles to the letters section of the biweekly Linewaiters' Gazette, house organ of the organic house.
It began in earnest during the Jan. 27, 2009, general meeting, when Hima B., a self-described queer-centric, intradependent filmmaker who eschews a last name, made a comment during the open forum that ran in the next issue of the newsletter: "I don't know whether or not we carry Israeli products, but I propose that we no longer carry them." Apparently there were some Sharon persimmons and organic red peppers in stock, but that was as far as the discussion went. It was followed by news of broken debt card machines on Christmas Eve.
Related: The co-op has a bomb scare. >>
The debate likely would have remained within the confines of 782 Union Street had someone at The Jewish Daily Forward not noticed those three innocuous paragraphs. The ensuring article got picked up by Ha'aretz and a million little blogs, setting off a media frenzy that consumed the co-op for months. The debate—angry letters, dirty looks—did not die down until the following fall. When the Gaza flotilla fiasco occurred last summer, it inflamed the issue yet again, which led a group of about 20 co-op members to push for a referendum on B.D.S., the subject of last week's meeting. This being a democratic institution, everyone gets their say, but saying it takes time. It will be at least six months before the referendum can be taken up.