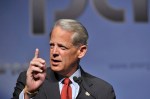 Long Island Congressman Steve Israel just sent out word that he is voting with the Republican majority to raise the federal debt ceiling.
Israel is in something of a tricky spot. He is a moderate Democrat, but, as the head of the Democratic Congressional Campaign Committee, he is also one of the leaders of the Caucus and responsible for retaking the House in 2012.
Thus, notice in his statement below that he quickly pivots from his yes vote and moves to hit the Republicans for their rigid negotiating posture. Expect more like this from other Democrats signing onto the bill.
Israel:
"I am voting yes because default is not an option. Now we will continue to hold House Republicans accountable for their failure to create jobs and their attempts to end Medicare. We relish the opportunity to fight them hard over their out-of-touch support for corporate tax loopholes and Big Oil subsidies. That is where the battle shifts. House Democrats will continue fighting for the middle class."