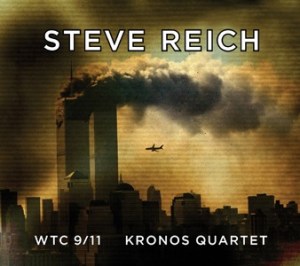 The minimalist composer Steve Reich has responded to criticism about the cover of his forthcoming album, WTC 9/11, which had a documentary photograph of a plane flying toward the towers. In an earlier announcement, Mr. Reich's label Nonesuch wrote, "The album marks the 10th anniversary of the terrorist attacks on the World Trade Center, which is the subject of Reich's piece and, accordingly, its cover, which features an indelible image of the attacks captured by photographer Masatomo Kuriya. WTC 9/11 is scored for three string quartets, all performed here by Kronos Quartet, and pre-recorded voices." The comments appended to the original announcement called the album cover "vile" and "terrible" and some encouraged a recall.
Mr. Reich has now posted a letter on the Nonesuch website announcing that the cover will change after public outcry:
As a composer I want people to listen to my music without something distracting them. The present cover of WTC 9/11 will, for many, act as a distraction from listening and so, with the gracious agreement of Nonesuch, the cover is being changed.

When the cover was being designed, I believed, as did all the staff at Nonesuch and the art director, that a piece of music with documentary material from an event would best be matched with a documentary photograph of that event. I felt that the photo suggested by our art director was very powerful, and Nonesuch backed me up. All of us felt that anyone seeing the cover would feel the same way.

When the cover was released on the Nonesuch site and elsewhere, there was, instead, an outpouring of controversy mostly by people who had never heard the music.
He continues to say that thus far reactions to the work have been "thoughtful and moving," in contrast to the attention paid to the cover. Mr. Reich lived only four blocks away from the World Trade Center in 2001, although he was away in Vermont when the attacks took place. "On 9/11 we were in Vermont, but our son, granddaughter, and daughter-in-law were all in our apartment," he has written. "Our phone connection stayed open for six hours and our next-door neighbors were finally able to drive north out of the city with their family and ours. For us, 9/11 was not a media event."
ewitt@observer.com