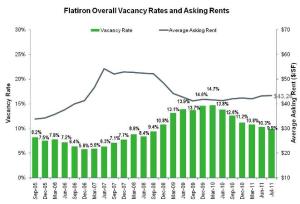 Cassidy Turley's research guru, Robert Sammons, on what's ahead for the Flatiron's office market:
The Flatiron submarket (14th to 37th streets and Fifth Avenue to the East River) saw its overall vacancy rate drop below 10 percent in July—to 9.9 percent, to be exact—for the first time since September 2008, when it closed that tumultuous month (Lehman Brothers, anyone?) at 9.4 percent. During the most recent downturn, its overall vacancy rate climbed to 15.1 percent (April 2010), its highest since it hit 16.4 percent in July 1995. Direct availability shot up from 1.9 million square feet in the spring of 2007 to 4.5 million in the spring of 2010, though today it has fallen back to three million.
Sublet availability also shared responsibility for the steeper vacancy rate—rising from 300,000 square feet in December 2007 to a high of 1.6 million square feet during the summer of 2009. In July, it was back to a more manageable 852,000.
Activity at the largest and most famous property in this submarket, the Empire State Building, has certainly helped push down the vacancy figure: Li & Fung (482,000 square feet), Coty (190,000) and LinkedIn (32,000) were involved in three significant leasing transactions there recently.
All that said, there may be a few hiccups ahead for the Flatiron. Credit Suisse, the largest occupier in the submarket, with 1.6 million square feet leased at 11 Madison Avenue, has already placed 96,547 of that on the market with an early 2013 availability. And the financial services giant is one of the prime targets of many a developer, with the lease expiration date for the remainder of its space set for 2017. Meanwhile, the Port Authority, which has occupied as much as 450,000 square feet in the submarket, will decamp to the World Trade Center around 2014.
Finally, 1107 Broadway, otherwise known as the Toy Center North Building, is under contract to be sold, though the Flatiron availability rate may not be affected by its 286,000 feet of vacant (though off-market) space, as it could be converted to residential use once the deal closes.
tacitelli@observer.com