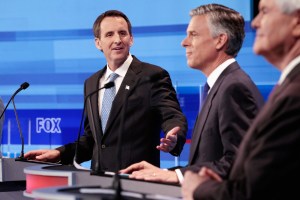 Visitors to the West Village were packed like cattle, corralled into uncomfortable angles on the sidewalk, on an otherwise mild evening last Thursday. President Obama was in town, evidently on the move, and these charmingly narrow streets were blocked with police barriers and bathed in rotating blue-and-red lights. The sidewalk diners didn't seem to mind and, seated as they were behind the jail-like bars, hooted at passing S.U.V.'s in hopes the president was inside. A tea room, via painted cursive signage, invited Mr. Obama to join the "proper 'tea party,'" inside.
The Observer traipsed over to Fiddlesticks, a sports bar that serves a passable martini, where we met the Log Cabin Republicans, that stalwart group of gay conservatives, who were meeting there to view the Iowa debate. Clustered at the back of the room behind a curtain, the 20 or so gentlemen mingled before a projection screen, looking like any other after-work drinks event—minus the women.
Not surprisingly, Michele Bachmann and her husband—they of the "pray the gay away" approach to homosexuality—were not polite topics of conversation. Brian, a health professional, was saying that Dr. Bachmann was "entitled to believe what he believes" when Jonas from PriceWaterhouseCoopers joined the cluster and asked what we were talking about.
"Marcus Bachmann," Brian explained. "Michele's wife—I mean Michele's husband. Whoops! That's a slip."
"Well, since you bring it up … " The Observer began.
"I don't believe any of those rumors," he shot back. "People like Jon Stewart and Stephen Colbert like to spread rumors. Just because you're not pro-gay doesn't mean that you are gay."
It wasn't a consensus. "My partner is a staunch liberal Democrat who works in the theater, and he's done every Shakespeare play," said Patrick Bundy, whose name tag was upside down. "He says Marcus protests too much, and I'll have to defer to him."
The televised debate began, and everyone marshaled his pint.
"We're gay, but we're not Republicans," hissed Steven, a student, as his friend nodded. "Don't tell them." They were by far the youngest people in the room. Rick Santorum was stammering through a policy question onscreen, but being young they mainly wanted to discuss his search engine issues, and repeatedly urged us to Google his surname. (Don't.)
At the crowded bar outside the back room, we bumped into Dan Isaacs, the chairman of the New York Republican County Committee, who stopped by to show his support. "Honestly, I don't know," Mr. Isaacs said when asked about which of the current candidates is best on gay rights. "I don't think that's—one more of these?" He tapped his martini glass at the bartender for another margarita neat. "Quite frankly, I don't know if it's an issue, so to speak," he continued. "I think everyone's focused on the economy at this point."
The men inside seemed to be avid supporters of Ron Paul. Bill Penna, a stocky Italian in all white and moccasins, was one. Sipping whiskey, he explained that he's been with the Log Cabins since 1987 and frequently travels to Albany, where he does shockingly well with the "heterosexualites" because "probably only 10 percent of the male population cannot be eroticized by another man."
"I played five sports in high school. I took every shop class that was invented," he said, adding that he was openly gay in high school in the '70s, but the trappings of masculinity kept him safe from ridicule. "The sports and the hazmat aprons inoculated me! I was into social politics early! I also fucked all of my friends, both male and female."
Tim Pawlenty—who has since bowed out of the race—came onscreen and Mr. Penna glared like he wanted to give him a swirly.
"The man never received the testosterone memo," he said. "My sister and Hillary Clinton could eat him for breakfast. Pawlenty—the man is devoid of testicles."
As The Observer motioned to get a fresh cocktail, Mr. Penna gave our rear a resounding slap. Fifteen minutes later, Michele Bachmann would define the word "submission" for the viewers at home.
Later, while Jon Huntsman spoke, a short woman in a black and gold dress entered the room just far enough to eye the screen.
"I agree," she said, clapping her hands together once. She glanced around as though we might not, presumably re: small government. "I agree! Hell yeah!" she said. She departed soon after.
As the evening progressed, the delegation lost a fair number of participants to the official Ron Paul party in Soho. Plus there was this whole schism with GoProud a few years ago. We didn't even want to hear about it, a man in a Hollister shirt insisted to The Observer. As the crowd dwindled, however, the remaining members became more comfortable yelling at the screen. "Oh, fuck off," one man let fly, in response to an apparently galling comment by Newt Gingrich.
"Shut up, Bret," shouted Greg Angelo, the New York State Log Cabin chairman, after one question from moderator Bret Baier. "Shut up, Bret!"
We stayed long enough to hear Herman Cain quote Donna Summer in his closing remarks, and scooted off to the now-liberated sidewalks.
dduray@observer.com