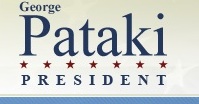 As George Pataki — and his website — inch closer to formally entering the 2012 GOP race for president, here's a roundup of what people are saying about him.
Jonathan Capehart remembers that Pataki endorsed Carl Paladino for governor last year, which doesn't bode very well for that "moderate" and "welcoming" presence some think the former governor brings to the GOP primary.
"This is clearly the website of someone running for Vice-President," New York magazine's Chris Rovzar writes.
Slate's David Weigel figures out the Pataki site is registered until 2013.
The governor's dealing with 1199 SEIU will haunt him, warns a blogger at DrewMusings.
Joseph Spector says to watch Pataki in Iowa this Saturday.
Newsday's Yancey Roy — undoubtedly channeling the New York Post — writes "Pataki for press web site up, then down."
Neil King Jr. of the Wall Street Journal added to the conversation at 1 p.m.
And Nick Reisman at Capital Tonight argues the site shows Pataki's people are serious about a campaign.