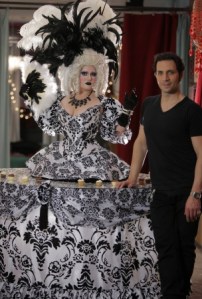 The Observer stood in the middle of a first-floor studio tucked into what may be the last ratty stretch of Avenue B, eyes closed and arms held aloft, and ducked into a leather chrysalis.
We were being fitted for a "man-corset," an anachronistic emblem of female oppression that once gripped only courtly ladies but now in New York can outfit any gender.
Our shit was about to get tight.
For lovers of corsetry, this small atelier is a sort of mecca: Amanda Lepore and Daphne Guinness are among the regular devotees. The exact address of the place is unlisted, but it isn't to hard to find, as the window is washed in silver glitter. This is the domain of Garo Sparo.
Hadn't you heard? The corset is back in style. Alexander McQueen's medieval-themed masterpieces drew record numbers to the Met, the blogs are crawling with "steam punks," and Spanx and competing shapewear have us locked in their formfitting grip.
In short, corsets are having a moment, and soon Mr. Sparo will be having one too. On Sept. 9, the Sundance Channel will premiere Unleashed by Garo, a couture-centric reality show that may turn the city's go-to corsetier into a star. "This is where it all happens!" Mr. Sparo exclaimed, gesturing around the studio-cum-funhouse littered with gem-studded statues, enormous books of Victorian palacewear and newspaper clippings of women and men he had dressed.
The corset king glided though the room in tan sandals, his facial hair groomed into sideburns, all the while fondling a red string. At tables lined against the art-spangled walls young assistants cut fabric, or sat at sewing machines running garments under the needles. Mannequins in corsets peered out over us, and other examples of the designer's rib-rattling pièce-de-résistance hung innocuously on racks. Brass band music played on a stereo, and Noah Klein, Mr. Sparo's studio manager and on-screen sidekick, twirled his pencil-thin mustache in time with the tuba.
It's no surprise the scene appealed to television producers.
"It looks beautiful on camera," said Sarah Barnett, who runs Sundance Channel's day-to-day as its executive vice president. "It's this colorful treasure trove, an Aladdin's cave of dream-making."
The studio's been in the neighborhood since the mid-'90s—when the area was a good deal seedier—but Mr. Sparo's been designing since long before that. The corsetier grew up on Long Island, the son of immigrant parents, with four brothers and a house that never lacked a place to sew.
"I was the only child allowed in the sewing room, because it was my passion," he said. "I was the only one who cared about clothes, etc. I started sewing at a very young age—5, 6 years old. It's in my family. They are immigrants to this country, they worked in factories. They did lace-making, hand-beading, all sorts of things."
He moved down south for college, where he parlayed his involvement in the "rinky-dink" fashion scene at the University of North Carolina at Greensboro into a sponsorship from Absolut to design high-end looks for a charity benefit they were putting on in New York. That was 1995. Mr. Sparo got involved in the club world, spending long glorious nights at Limelight, Jackie 60 and Click+Drag.
"It was the budding rave scene, and what was really big then were hats: mad hatter hats, jughead hats, crowns," he said. "So I would start wearing them to clubs, and then people would start wanting them. The clubs would let them put a little shop in there. And then I started making the clothes."
The attention led to expansion in 33 cities and eventually boutiques on Avenue B and St. Marks Place. Mr. Sparo weathered 9/11 by branching into bridal wear—"People weren't buying clothes, but they were still getting married!"—and once the market came back, he began attracting high-profile clients. Amanda Lepore gets all her corsetry from Garo, and Ms. Guinness named him one of her favorite designers, alongside Alexander McQueen and Gareth Pugh. Mr. Sparo refers to the beer heiress and mistress to Bernard Henri-Levy as "my muse of the moment."
(A representative for Ms. Guinness informed us that the muse would not be able to respond to our request for comment.)
We asked about Mr. Sparo's experience with perhaps fashion's ultimate muse, Lady Gaga.
"I designed a dress for one of her music videos," one of Mr. Sparo's baby-faced assistants sighed. His hair was cut into a hacked-at Mohawk, and his T-shirt bore the anarchist circle-A symbol. "She returned it totally destroyed. And she didn't pay for it."