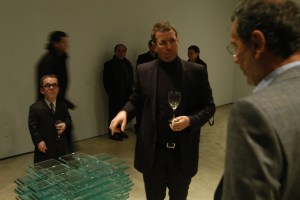 Pace Gallery founder Arne Glimcher and his son Marc are profiled in a Kelly Crow story in the new WSJ. magazine, who gets a few juicy details out of the father-son duo.
We learn, for instance, that Pace, which operates four galleries in New York and one in Beijing (with a London branch on the way), sells $400 million of art a year, and that Marc, 47, who has been positioned as heir apparent, was the motivating force behind the gallery's decision last year to end its partnership with Wildenstein & Co., the storied French firm that has run into messy legal trouble in recent years.
"I wavered several times," Mr. Glimcher père, 73, who established Pace in Boston in 1960, tells The Journal of the decision to end the PaceWildenstein partnership. "I have a smart kid." Ms. Crow writes that Pace spent "more than $100 million" to buy out the Wildensteins' share of their joint business, a deal that included a trove of art. (At the time of the deal The New York Times reported that "hundreds of millions of dollars are said to have changed hands.")
Can Mr. Glimcher fils successfully lead Pace without his father? Swiss dealer Iwan Wirth shares his views. "I don't believe in second-generation galleries because every gallery needs to have an identity, one soul," Mr. Wirth says. "Marc needs to prove he can leave his footprint on Pace." Those sound like fighting words.
Ms. Crow notes that the younger Glimcher left the gallery twice in his earlier years, apparently uncertain about joining the family business. "I've told Marc, 'You've run twice before—this is your last chance to prove yourself to all of us,'" artist Chuck Close, who has shown with Pace since 1975, says rather ominously. However, Mr. Close says he will stay with Pace as long as Marc remains there.
Photographer Hiroshi Sugimoto is more guarded. "After Arne, I can't say what I'll do," Mr. Sugimoto says. "The gallery is great, but things change." Mr. Sugimoto joined Pace only recently, having left rival Larry Gagosian, today's most powerful art dealer, whose high-flying real-estate dealings The Observer detailed this week.
A handy interactive chart accompanying the piece sets the Gagosian and Pace empires side by side, and Gagosian looks dominant: his 77 artists accounted for a crisp 50 percent of total auction sales in the first half of 2011, while Pace's 54 artists were responsible for an impressive but comparatively paltry 12 percent. (To be fair, a large portion of Mr. Gagosian's lead in this category is attributable to his representation of the estate of Andy Warhol, whose work typically accounts for an outsize portion of contemporary art auctions–in New York's May contemporary sales, a full 25 percent of the works, as measured by estimated value, were Warhols. And even Mr. Gagosian does not have a complete hold on the Warhol market.)
Also intriguing: works by Gagosian artists have made, on average, $3.23 million at auction this year, while Pace's artists averaged $2.14 million. In a 2008 profile of Mr. Gagosian in The Economist's Intelligent Life magazine, another rival gallerist, David Zwirner, said of the dealer, "He wanted to be known as the guy who could really maximize the career." That certainly seems to be the case for now.
With Pace adding younger artists in recent years–Tara Donovan and Sterling Ruby, for instance–and its London operations going live in June, its longstanding rivalry with Mr. Gagosian–who recently lost the de Kooning estate to Pace–may grow more intense over the next few years. Mr. Gagosian is 66, almost two decades older than Marc Glimcher. He has not said what his long-term plans are for his network of 11 international galleries.