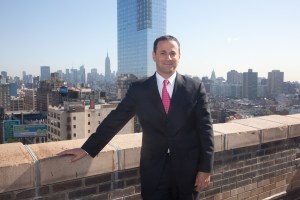 When Cushman & Wakefield accepted leasing duties at 1 Hudson Square in 2005, the building just north of Canal Street was still struggling to transcend its traffic-choked proximity to the Holland Tunnel and an address in a neighborhood nobody had really named (it's called Hudson Square today).
Yet by seizing on a small but notable spurt in recent activity from a handful of tech firms and digital start-ups, the Cushman agents helped reposition the 1.1-million-square-foot building into a hub for the city's creative underclass.
Among the brokers at Cushman most instrumental in 1 Hudson Square's reversal was Marc Packman, who helped close deals with Horizon Media and Atlantic Philanthropies, a nonprofit dedicated to advocacy for disadvantaged people that diversified the asset's tenant mix. Still, while Mr. Packman and Cushman succeeded in raising occupancy at the building—leasing some 350,000 square feet of space over the course of five years—just shy of 150,000 feet of space remained conspicuously empty.
It's possible that the vacancy weighed heavily on Mr. Packman. For, whether motivated by unfinished business or a prestigious new title, the agent said goodbye to Cushman last November in exchange for the position of senior vice president and director for leasing at Trinity Real Estate, the owner of 1 Hudson Square. Either way, within six short months he inked the deal that filled the building.
"There was about half a million square feet of vacant space in 2005, when we were assigned the agency at Cushman & Wakefield," Mr. Packman said. "And to bring 1 Hudson Square all the way through to 100 percent occupancy is something that, honestly, I'm pretty proud of."
While the transformation of Trinity's portfolio of 18 commercial buildings largely owes its success to Jason Pizer, who in 2010 became the firm's president, it has been his successor in the leasing department who has inked more than 750,000 feet of deals since November. That string of deals should be punctuated by Mr. Packman's signing with the Omnicom Group, which inked about 147,000 square feet in May at 1 Hudson Square. It was that branding, advertising and marketing firm's 10-year lease, after all, that fully occupied the building once ignored by tenants.
But, to hear it from Mr. Packman, the deal activity has not been exclusive to 1 Hudson Square. In April, in fact, the Penguin Group renewed 136,000 feet at 345 Hudson Street. And last month, FremantleMedia signed for 8,000 feet at 435 Hudson Street in a bid to be closer to @radical.media, a media company it acquired a majority stake in last year. Meanwhile, Horizon Media added another 33,000 square feet in April to its initial 1 Hudson Square lease in February 2010 for 115,000 feet.
But slightly more curious is a 75,000-square-foot consolidation that Mr. Packman brokered early this month with a finance firm at 100 Avenue of the Americas. Whether the deal, among its first with a money manger, represents a shift in Trinity's tenancy, Mr. Packman hardly knows.
Perhaps more telling, however, are the retail deals that he hinted at for later this year. All told, four ground-floor retailers, including a grocer and a restaurateur, will take space across Hudson Square in a maneuver all but certain to build on the neighborhood's transformation into a mixed-use hub.
"It's lively," said Mr. Packman, who said net effective rent across Trinity's six-million-square-foot portfolio has increased by 15 percent since late November. "I've been [involved] here for six or seven years, and I've noticed a big change for the positive. It's nice to see it grow like it has. Everybody in the city knows Hudson Square now."
Mr. Packman is from New Jersey, but it was immediately after his graduation from St. Louis's Washington University as a finance student that he found his calling as a broker. It was on that campus, in fact, that he met agents from Equis, who, after a job fair interview, hired the graduate as a tenant broker. That was in 1998, during the Internet boom, when real estate in the city was, well, booming too. But following a big string of deals for start-ups such as Urbanfetch, a dot-com that collapsed along with its peers in 2000, Mr. Packman was told by his mentors that markets do turn.
For himself, such a truth arrived immediately. It was with an Internet firm, in fact, that he experienced such a blow, when, shortly after signing a deal, he was told that his client now needed to sublease the space it had inked. "I rode that wave, but everybody said it wasn't always going to be like this, and I had to take them at their word, and trust them," said Mr. Packman, now 35. "Sure enough, they were all right."
He later took a job with Tishman Speyer, where he learned the complexity of the trade, working three years leasing space at Rockefeller Center. He then moved on to other leasing duties at Tishman, including at 520 Madison Avenue, 666 Fifth Avenue and the Chrysler Building.
But it seems it was five years at Cushman & Wakefield that prepared him for Trinity Real Estate. After his stint as an agency representative at 1 Hudson Square, where he got to know Mr. Pizer, the transition came easily. "Trinity gave me the opportunity to still do what I do, which is landlord office leasing," Mr. Packman said. "While I loved my time at Cushman, at Trinity, within reason, I have a true ability to do what I think I need to do to lease space and do what's right for the neighborhood. To me, that's good."
jsederstrom@observer.com