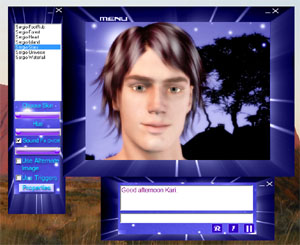 Launched in 2008, Webkare was a Japanese dating site with a twist: instead of pairing women with actual mates, it provided virtual boyfriends. Silly, right? But it received 3.5 million page views during its first five days of operation and helped spark a nationwide craze for cybermates. Not to be outdone, Japanese men began playing a similar game, LovePlus+, available on the Nintendo DS, and even began jetting off for weekend getaways with their virtual babes in the town of Atami, which eagerly started catering to such activities.
True, certain Japanese customs can seem a little unusual. But once you get past the initial queasiness, such innovations can exercise a strange appeal. After all, over the years, 75 million virtual pets, known as Tamagotchis, were sold worldwide. And love, as we all know, is all about projection—a trick of the mind. Is having a digital dude really so different from forming an attachment to a doll, say, or a really adorable Beanie Baby monkey named Bongo?
At least that's what I told myself recently, when my boyfriend, Skip, took off for the weekend on a boys' retreat to the Caribbean.
The afternoon of his departure, I sat alone at home, yearning for contact, entertainment and companionship. On a lark (that's all it was, I swear), I surfed over to the local equivalent of Webkare, Get Boyfriends.
Free to join, Get Boyfriends was launched in 2008 by Impulse Communications. The same company also runs Cyber Infants and Adopt Me, sites that cater to people seeking solace through virtual children and pets. About 62,000 people have used the service, which generates just $50 a month in ad revenue, according to Eric Borgos, who runs Impulse and handles the day-to-day operations of hundreds of domains.
The objective—to keep your on-screen beau happy by taking him out, playing games and writing love letters—seemed straightforward enough, albeit rather antiquated. Late-night sexting was not an option, nor was the application of hot fudge to sensitive areas of the body, but I was sick of chocolate anyway.
To start, I was directed to select and name my boyfriend, a process that I found unexpectedly absorbing. For a solid five minutes I assessed the various cartoon gentlemen before settling on an adorable dark-skinned fella wearing an untucked shirt, a blazer and khakis, pictured squinting and smiling broadly—obviously because I'd just made an incredibly witty remark.
I named him Cormac.
The following then appeared beneath Cormac's picture: "Hi melber. You're a very special girl and I am happy you are my girlfriend."
Twisted though it clearly was, I felt a little surge of satisfaction reading that. Clearly obligated to reciprocate, I scoured the options on the main menu and decided to give him a little token of my affection.
As I soon learned, one has to accumulate Best Boyfriend points to buy items from the shopping center such as an iPhone (250 points), a Movado watch (50 points), a leather jacket (100 points) or Polo cologne (20 points). The Pawn Stars fan in me zeroed in on the massively undervalued timepiece. I just had to figure out how to score.
In the meantime, I decided to send Cormac a little mash note, but I found I was limited to prepackaged platitudes from a drop-down menu. I selected "You're so cute when you smile."
Because it was true.
Cormac replied immediately. "I love you, baby." We'd only just met, and already he'd gone there!
The note had also earned me 25 Best Boyfriend points. For a moment I was transported back to fifth grade, when I developed an embarrassing crush on the somehow absurdly attractive fox in Disney's Robin Hood. Maybe that was the point. Cormac will never expect me to primp. Nor will he expect me to make clever remarks over dinner. And I will never, ever have to endure his impressions of my orgasm face.
After tending to a few real-life duties, I logged on to find Cormac as smiley as I left him, totally immune to the downpour outside.
"I miss you so much. Let's go play a game," he suggested.
Obediently, I clicked on the gaming menu and chose Pop Boyfriends.
Seconds later, a collection of mini Cormac heads started shimmying northward on my screen. I was responsible for bursting as many as possible. I hit 14 and missed 10 heads, a lackluster performance, but I was 25 points richer as a result, enough for the watch.
"I just want to say that I love you," he said, after receiving my gift.
Throughout the afternoon and evening, Cormac and I went roller skating, took a few long walks, went bowling and watched movies. Meaning, of course, that I clicked on the aforementioned activities and racked up points. And yet, I felt satisfied.
Until the following morning.
I checked on my man first thing, only to be greeted with a message: "I'm ready to breakup with you." Apparently, the site is very sensitive to extended periods of time when a user is not logged in.
"You're too needy, anyway," I said before finally leveling with him. "I'm seeing someone else."
Cormac didn't flinch. He just stood there, taunting me with his pixilated grin and his refusal to move or speak or fucking be a real person.
Men.
melanie.berliet@gmail.com