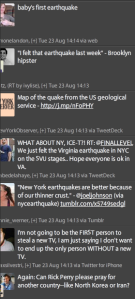 What are the most powerful earthquakes on the New York media scene? We did some investigation by looking at our Twitter feed in order to find out! These are the earthquakes you want to know–and while many had significant aftershocks, some were singles! ("They'll make the earth move under your feet," was the oft-repeated refrain from several well-connected media and seismology gadfly tipsters.)
1. August 23, 2011, aftershocks felt in New York from earthquake originating in Virginia.
2-∞. Unnamed earthquakes felt by people who lived in, once visited, or are aware of the state of California.
The party celebrating this power list shall be held in a bomb shelter somewhere below 44th Street!
ddaddario@observer.com :: @DPD_