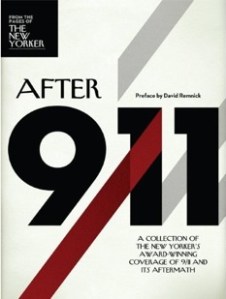 Following a trend established by The New York Times, Vanity Fair and others, The New Yorker has published its first standalone e-book. After 9/11: An E-book Anthology collects the writing of:
Hendrik Hertzberg, John Updike, Jonathan Franzen, Rebecca Mead, Denis Johnson, Roger Angell, Susan Sontag, Aharon Appelfeld, Amitav Ghosh, and Donald Antrim—plus seven more Talk of the Town pieces. Features include Adam Gopnik on returning to downtown Manhattan after the attacks, Lawrence Wright on the Al Qaeda terrorist Ayman al-Zawahiri, Steve Coll on the education of the young Osama bin Laden, Raffi Khatchadourian on the American homegrown Al Qaeda terrorist Adam Gadahn, Jennifer Kahn on the complicated death of the 9/11 hero James Zadroga, and Nicholas Schmidle on the raid on Osama bin Laden's Abbottabad compound by a team of Navy SEALs.
"You can publish a book that's not as commercial as print publication demands, and you can put something together quickly when you want to," deputy editor Pam McCarthy said to
The Cutline
.