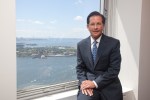 It was back in 2006, during a streak of economic buoyancy, that Google, then only eight years old, paid $319 million for an office complex on Amphitheatre Avenue in Mountain View, Calif., that would soon become known to all as the Googleplex.
Since then, the empire that Larry Page and Sergey Brin built has expanded to include 68 addresses in Canada, Asia, Europe, Latin America, the United States and even the Middle East. In 2010, the company reported that its total assets had reached a whopping $57.9 billion. So it wasn't a surprise last December when Google signed a contract to buy 111 Eighth Avenue, one of New York City's largest office buildings. Nor did anyone blanch when the closing price of $1.8 billion turned out to be the largest of the year—not just in Manhattan, but in the entire country.
But for Robert Sorin, an attorney with Fried Frank's real estate practice who represented Google in that deal, what remains most surprising of all is that an outfit that shares a tax bracket with the most profitable companies in the world wound up applying for a loan.
"Here you had a company that's got, I don't know, 30-something billion in cash—and the typical clients that most real estate lawyers deal with hardly ever have that kind of luxury," Mr. Sorin said. "The interesting, unique thing for me was representing a client who I literally had to … It was the first time in my career I've ever had to convince a client to take a loan on a property."
For Mr. Sorin, an attorney with nearly 30 years of experience and a client log augmented by Chase Manhattan Bank, Macklowe Properties and Goldman Sachs, the reasons for Google to get a property loan were simple enough.
Without the loan—if, in other words, the company had paid for the building in an all-cash transaction—it would have lost the financial benefits that come from a mortgage recording tax that had already been paid off by the property's previous owners. With a $500 million mortgage, that benefit, according to the lawyer, equated to $15 million.
"You might think in the context of a $1.8 billion deal that $15 million isn't significant—and in a way to them it's not—but it really is," Mr. Sorin said. "But once I got them to focus on that, and to realize there was this asset that they could keep—after it went up the corporate ladder up there they finally decided, 'Yeah, you know what, I think it's a good idea for us to go get a loan.'"
It's the almost counterintuitive strategies like the one he devised for Google that have earned the lawyer a top spot at Fried Frank, where since 1997 he has served as a partner in its well-regarded real estate practice.
And yet, in a legal niche where many competitors have inched increasingly toward specialization—exclusively focusing on, say, distressed assets or loan sales—Mr. Sorin, 53, describes himself as a generalist. In other words, he's a jack-of-all-trades who has taken on hotel, mixed-use and retail assets, joint ventures, commercial mortgages, mezzanine financing and myriad debt restructurings, to name only a few. Call him a renaissance lawyer.
Further evidence? Mr. Sorin's involvement with the Apple store at the base of the General Motors Building; the acquisition and leaseback of the HSBC headquarters at 452 Fifth Avenue; the huge 2008 sale of said GM Building, which at $2.9 billion was the highest paid for a U.S. office property; and Chase Manhattan's multibillion-dollar divestment of the bank's entire loan and R.E.O. real estate portfolio.
"I really have a very diverse practice in terms of the type of work I do and the types of clients that I represent," said the married, Short Hills, N.J., father of two, slapping fresh meaning to the word "modesty." "For me, it makes this all the more interesting and all the more fun."
Among the assignments he considers his most interesting, he said, was his 2010 deal on behalf of the IDB Group, which, as Israel's largest conglomerate, reflects an estimated 10 percent of the country's G.D.P. The deal, he said, involved the acquisition and leaseback of 452 Fifth, the 850,000-square-foot building that houses HSBC's New York headquarters. At the time, dear reader, you'll recall that the downturn had come.
In that assignment, Mr. Sorin's client, the IDB Group, sought to purchase the asset—but, in a wicked twist, it evolved into a complicated leaseback transaction for HSBC Bank, which had been the owner and user of the property.
Despite IDB's tremendous capital, Mr. Sorin faced issues that included leasing back portions of the building on a short-term basis and other portions on a long-term basis. On floors 12 through 29, for example, he is already actively leasing office space. On those soon-to-be renovated floors, he is already heading up leasing. On the bottom floors, leases are longer and will remain occupied by HSBC.
"It all brought forth acquisition-type work, financing-type work and all the leasing-type work," Mr. Sorin said. "It's another example of a lot of those different types of work that a single transaction—if you're representing the owner of the site—brings to bear."
Like most toiling in real estate, however, Mr. Sorin felt the downturn—acutely. As he describes it, the demand on his time went from intense to thumb-twiddling in a flash. "It's funny, but during those heydays I had this printout of a list of all the big matters. I just had so many matters going on at the same time that I had to have a printout of each one so I could kind of keep status of what I had to do on each matter—and it got to be that it was 25 matters at the same time. But when the world turned, I didn't need the list anymore.
"But the interesting thing is, literally in the last month, I've had to recreate that list again," he added, smiling. "Just because I guess I have so many things happening right now. It's busy again."
jsederstrom@observer.com