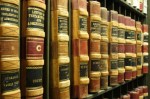 Behind every big real estate transaction is a phalanx of attorneys ticking off the billable hours. But in a slowly recovering market, with tepid lending and almost no new development, what exactly is the role of a real estate lawyer? Much more than dollar amounts are being negotiated, that's for sure. And what differentiates one firm from the next?
We tapped the top New York City real estate practices and asked them these questions.
Leonard Boxer
Stroock & Stroock & Lavan
"With the capital markets the way they are, every deal is complicated," said Leonard Boxer, head of the real estate practice at Stroock & Stroock & Lavan. Now entering it's ninth decade of practice, Stroock's real estate group counts among its clients some of the most visible figures and institutions in Big Real Estate: Silverstein Properties, Wells Fargo, Citibank, JPMorgan Chase, the Feil Organization and, what the heck, the Mets—while Mr. Boxer himself counsels the Real Estate Board of New York.
The legal landscape has changed permanently to favor attorneys with a real sense of business, he said. "Brokers are so knowledgeable; they will negotiate an L.O.I. so comprehensive … it will be, like, 100 pages." An L.O.I. used to be a single page. "Today if a piece of property is available, there are rounds of bids. It's almost like baseball," Mr. Boxer said. "They don't need just a good lawyer."
In his role at REBNY, Mr. Boxer is also involved in all sorts of policy matters, particularly the fight in Albany this past spring over changes to rent regulations.
And despite being involved with the "most visible transaction, one we live with every day"—representing Silverstein at the World Trade Center site—Stroock remains involved in a number of lesser-known deals that have long girded its practice. For example, there was the recent sale of Liberty Towers, a 675-unit residential high-rise in Jersey City.
How did Mr. Boxer end up at Stroock, his firm since 1987? In the 1980s, while real estate transactions began to rival corporate transactions in volume, many small real estate firms were being bought up by the big guys. His boutique firm—Olnick, Boxer, Blumberg, Lane & Troy—was sought after, as was Mr. Boxer himself. But he was fiercely loyal to his people and would not budge on one matter: he wanted any buyer to take his whole firm, down to the mail room. "And, quite frankly, Stroock was the only firm that would do it."
Raymond Sanseverino
Loeb & Loeb
"Time is the enemy of all transactions," said Raymond Sanseverino, head of the real estate practice at Loeb & Loeb.
His practice of 50 attorneys stands apart for its responsiveness, according to Mr. Sanseverino. For instance, earlier this year, Loeb & Loeb negotiated more than 400,000 square feet at 120 Park Avenue for Bloomberg in only 12 days, after competing parties began vying for the space.
Loeb & Loeb also repped JPMorgan Chase as sublandlord in their vacating of 445,000 square feet at 245 Park; perfumer Coty in a huge lease at the Empire State Building; and the landlord at 875 Third Avenue in its 110,000-square-foot lease to Cerberus Capital.
Loeb & Loeb is also no stranger to unconventional requirements. They oversaw the Chinese state news agency Xinhua's move to 2 Times Square, which required the State Department's approval among myriad logistical challenges. But it all worked out smoothly in the end, with Xinhua leasing some quintessentially capitalistic real estate. "They'll have a view of the ball dropping," Mr. Sanseverino said.
"We know the market," he added in explaining the practice's approach in general. "We're in it everyday."
Aside from pricing, he advises clients on what provisions are realistic to ask for. These days, for instance, nondisturbance agreements are much easier to obtain and tenants are seeing more money for capital improvements. Mr. Sanseverino also believes in cool-headed negotiation. "These parties have to live together for 10, 15 years. There is never a need to scorch the earth."