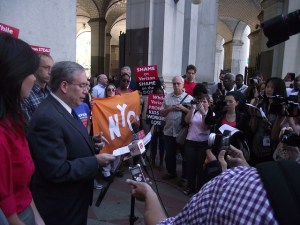 Manhattan Borough President Scott Stringer sent a letter to Verizon urging them to repay New York City $800,000 in response to findings from a city investigator who said the major telecom company benefited from the illegal activity of one of their subordinates.
In his August 30th letter to Jim Gerace, president of of the New York Region for Verizon, Stringer said $800,000 was the "minimum" amount the company should repay, based on a report from Richard Condon, the special commissioner of investigations for New York City public schools.
"If you got the money by ill-gotten gains, then you have to return it," Stringer said this morning, at a press conference outside One Centre Street. Stringer said the company agreed earlier to return the money but "they just haven't sent the check."
A message left with the company was not immediately returned. Also appearing with Stringer this morning were State Senator Tom Duane, City Council members Jessica Lappin, Ydanis Rodriguez, Elizabeth Crowley, Jumaane Williams and, belatedly, James Sanders.