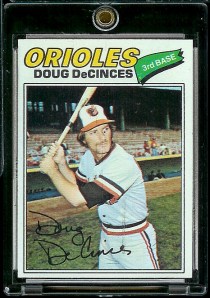 Baseball's having a hell of a (money-oriented crime) related week. First, accomplished New York Yankee and known centaur Alex Rodriguez gets busted for playing poker.  Now, former MLB All-Star and Baltimore Orioles' hall-of-famer Doug DeCinces has been charged with three others for insider trading.
According to the release (which touts the fact that he used to play baseball, because even SEC button-ups need to feel the glory of a successful at-bat), Mr. DeCinces and his co-conspirators made $1.7M off of the sale of the a company called Advanced Medical Optics Inc. to Illinois-based Abbott Laboratories Inc. The former third baseman—active in Major League Baseball from 1973 to 1987 most prominently for Baltimore—agreed to pay $2.5M to the SEC to settle the charges. His insider trading skills sound inversely porportioned to his baseball skills, which earned him a place on the AL All-Star team in 1986. From the SEC:
DeCinces, who lives in Laguna Beach, Calif., received confidential information about the acquisition from a source at Santa Ana, Calif.-based Advanced Medical Optics. DeCinces immediately began to purchase shares of Advanced Medical Optics in several brokerage accounts, buying more throughout the course of the impending transaction as he received updated information from his source. During this time, DeCinces also illegally tipped three associates who traded on the confidential information – physical therapist Joseph J. Donohue, real estate lawyer Fred Scott Jackson, and businessman Roger A. Wittenbach.
Even better? Cliche that jocks are idiots: perpetrated.
Donohue made $75,570 when he sold the stock on the same day as the public announcement. DeCinces later asked Donohue whether he had sold his stock and congratulated him.
Anyone congratulating anybody else on making $75K on insider trading is also, very likely, the kind of person stupid enough to be caught. Mr. DeCinces—worth $1.99 at Sears, mint condition—and his aspirants should take some tips from known goldbug and Mets kinda-owner David Einhorn. Or really, anybody with skin in the (baseball) game who's made money elsewhere legally. Or at least more discreetly. From a 2008 MLB.com piece on his (second) life after third base:
"People don't really understand what it takes to be a professional athlete. It takes a lot of dedication and preparation in order to be successful and I took those traits and went to the business world with that same preparation."
When reached by The Observer, a spokesman for the (43-64) Baltimore Orioles declined to comment on Mr. DeCinces hall-of-fame status with the ball club until "they have gathered all the facts."
SEC Charges Former Professional Baseball Player Doug DeCinces and Three Others with Insider Trading [SEC]
Previously:DeCinces enjoying life as businessman. [MLB.com]
fkamer@observer.com | @weareyourfek