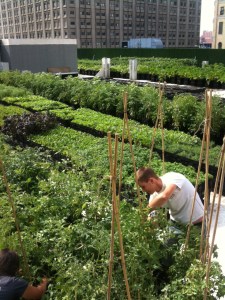 In a place like New York City, where fertile farmland is forever in the rear-view mirror, rooftop farms aren't anything new.
But what about construction-site ones? Tom Colicchio's Riverpark Restaurant and the Alexandria Center for Life Science have teamed up to plant a farm on a stalled site, thereby creating a mash-up of two of our favorite things. And with more than 600 stalled construction projects littered throughout the city, that's a lot of potatoes.
The 15,000-square-foot farm sits atop the building at 430 East 29th Street near First Avenue and is already supplying fresh produce to the nearby Riverpark. The stalled site is still intended to be the Alexandria Center's west tower, but Riverpark Farm will remain there until construction resumes, at which point it will relocate to another part of the center's four-acre campus.
And such creativity is necessary for green thumbs in an ultra-urban setting such as Manhattan.
"Thousands of soil-filled milk-crates sitting on a concrete foundation is just another way to think about a farmer's field," said Zach Pickens, one of Riverpark's urban farmers, in a statement. "Add some sun, water and patience and a great harvest will follow."
pengel@observer.com