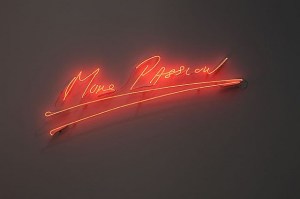 At U.K. Prime Minister David Cameron's request, the reliably controversial British artist Tracey Emin has created one of her iconic neon text pieces for his official residence, at 10 Downing Street. The piece is a bit tamer than her usual fare, reading in red letters: "More Passion." (In contrast, past messages have included: "People like you need to fuck people like me" and "Good Smile Great Come.")
According to The Sun, the neon, which Ms. Emin donated to the state, is installed in a first-floor hallway at the famed address and is valued at £250,000 ($412,000).
Reactions in the country's papers have not been especially positive.
In The Daily Mirror, the liberal-leaning paper once editing by CNN anchor Piers Morgan, Stephen Martin writes, "It's difficult to say who should be more shame-faced… ex-rebel Tracey Emin for cosying up to the establishment… or the PM… for the most laughable attempt to look hip since Tony Blair ushered Noel ­Gallagher of Oasis through the door."
Rupert Murdoch's Sun calls the pieces "wacky," and provides an artist rendering of Deputy Prime Minister Nick Clegg "pickled" inside a pink Damien Hirst formaldehyde sculpture. It's very bizarre.
In the conservative Telegraph, political writer Harry Mount admits that he is not a fan of the work. "When will they see that the Empress has no clothes?" Mr. Mount asks. The piece, he writes, "makes the heart sink," and adds that it "is neither skilled, elegant nor beautiful." The writer argues that 17th and 18th-century paintings should be hung in the building instead.
Mr. Mount goes on to note that the work lacks even Ms. Emin's trademark shock value. He writes, "[I]t's the sort of thing said by Alan Partridge at one of his motel seminars, the last-gasp shout of the desperate football manager at the end of the half-time team talk.
Here's hoping the next prime minister can at least get a truly shocking Emin–perhaps a special version of her 1998 My Bed piece, the unmade bed that she displayed at the Tate Gallery in 1999, which featured condoms and bloodstained underwear, among other items.