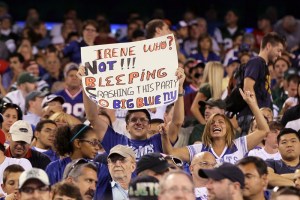 In Carroll Gardens, at the nexus of Zone-A neighborhoods Red Hook and Gowanus, tropical depression was still blowing in off New York harbor yesterday.
"I was pissed off because I'm in from out of town to visit my sister and her boyfriend," Nick Berks told The Observer while waiting for a airport-bound livery cab on Smith Street, a large chest tattoo poking out above the collar of his black T-shirt. "I wish it hadn't happened, because we had plans to go to the museums and Broadway. It was a letdown, because if you're stuck inside a bar all day and all night, it might as well have been for a good reason besides getting wasted."
Bradley Guin, the boyfriend, blamed The Observer, in a way. "I think the media is responsible," he said from under a Yankees cap. "They overhyped it and got everyone worked up." It wouldn't be the first time we'd brought on some mental malady
Next door, at eight-year-old institution Frankies 457, the backyard was packed, with a wait to get in. Apparently people were taking the day off from work, which had as much to do with the state of the M.T.A (actually pretty good!) as their state of mind (not so much). Nothing a meatball parm could not cure.
Cassandra Rose was sitting on a bench in Cobble Hill park, texting her friends about the storm while enjoying a 16-ounce sugar-free Red Bull. "I'm a photographer, so I was up all night working," she said. "At about 6 A.M., I thought, O.K., this is a storm, but we had this two weeks ago. I was hoping for something special, because I don't photograph landscapes, mostly just people. I was hoping for some real chaos so I could really go to town."
Still, there were those New Yorkers who had been fortunate enough to have been spared by tropical depression. "That's puerile," a woman named Bridgette said from behind Jackie-O-sized black sunglasses on Carroll Street next to the rising track of the F and G trains, where they come up from underground. "I'm thrilled there was no hurricane and our toxic canal over there didn't flood," she added, gesturing to the nearby banks of the Superfunded Gowanus.
At Bar Great Henry, The Observer got perhaps the chilliest reception of all. We asked the bartendress if she had been suffering the effects of tropical depression, or had heard them from her customers. She stiffened. "No," she said. "I wasn't working this weekend, and I just opened." Two juggernauts at the end of the bar, members of FDNY, DSNY or NYPD as best we could tell, began to mutter something about fucking ingrates.
Sam Roberts was walking his husky, Kameara, nearby. "Not me, but I've heard that," he said of his friends and acquaintances who were suffering from the after effect of the non-effects of Hurricane Irene. "For me, anyway, I was happy there wasn't more destruction because we're right on the flood zone," he said, adding, "I'm just glad we didn't have to spend the night in a shelter."
Mr. Roberts echoed a refrain The Observer heard from those who thought tropical depression was, like so many other psychiatric problems, an invention of an overactive mind, one that seems to gravitate to—and may even be fostered by—New York City. "If it would have been worse, people would have complained about that, instead," he said.
Back in Midtown, at the Original Penguin store across from Bryant Park, the two saleswomen agreed. "Oh God," Courtney said. "It's just a stupid thing. In Florida and the Bahamas, people have to live through it all the time. People are just curious. It's like the earthquake. Some people are like, 'Oh, I missed it.' Really? You want to live through that? I'm from Houston, but here's it's unusual, so I guess they do."
"You should be lucky," Genie, who grew up here, said. "It's a New York thing to complain."
Charles Cho will cop to that. "I was out Saturday night, at this rooftop party, and it was really cool," he said. "Still, I would have liked to have seen some signs flying around and people falling down." How depressing.
mchaban [at] observer.com | @MC_NYC