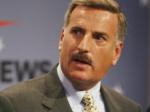 Bob Turner is knocking David Weprin for not knowing the size of the federal deficit during an interview with The Daily News' editorial board.
According to a Sunday editorial in the DN:
[Weprin]  touted "a unique background and something to contribute, having a 20-year private-sector career in public finance as well as being the City Council chairman of the Finance Committee for eight years."

Soon after, the following exchange took place:

Daily News: "Right now, how big is the debt?"

Weprin: (Pause) "Trillions."

News: "But how many?"

Weprin: (Deer in headlights look.) "I got caught up on this once before," referring to his inability while running unsuccessfully for city controller in 2009 to state that office's budget.

News: "This is central to what is going on in Washington."

Weprin: "About 4 trillion."

News: "Four trillion is the debt?"

Weprin: "Right."

Well, he was off only by a $10 trillion order of magnitude. As has been reported far, wide and ad nauseam, the U.S. is burdened by a debt of roughly $14 trillion.
"The $14 trillion federal debt, and its drag on the U.S. economy, is the most significant issue in America today, and Mr. Weprin is totally unaware of it," said Turner. "It is unfathomable that someone who claims to have government finance experience is so uniformed about a crisis of this magnitude.  The $14 trillion in federal debt is the issue – it threatens our social safety network and the futures of tens of millions of young Americans.  If Mr. Weprin wants to keep running for higher offices, he ought to read a newspaper."
Turner, a Republican, and Weprin, a Democrat, are locked in a tight race to replace Anthony Weiner in Congress in a district that covers parts of Queens and Brooklyn.
We can imagine what the rejoinder from Weprin will be. That same editorial noted that Turner didn't seem to understand how the federal 9/11 health bill works, or that the government could not legally prevent a mosque from opening near Ground Zero:
Meanwhile, on the Republican side, Bob Turner (bottom photo), a retired television industry executive, said the city should use all its powers, including zoning regulation, to prevent a mosque from opening near Ground Zero.

Told that the U.S. Constitution would prohibit any official from using governmental powers against a religious or political group based on faith or position, Turner said the city should act nonetheless.

Turner also made news with a pronouncement about the federal James Zadroga act that will provide compensation and health care to 9/11 first responders.

While supporting help for police and firefighters, he questioned whether "volunteers" should be eligible for help because, possibly, they had been on the site only briefly.

Clearly, Turner did not understand that people who apply for Zadroga payments will have to prove when and where they were in the environs of Ground Zero and show that they consequently suffered documented illnesses.
Update:
The Weprin campaign passes along the following response:
"Obviously David knows that the national debt is $14 trillion. David's slip of the tongue is not going to harm Brooklyn and Queens working class families and seniors like Bob Turner's plan to end Medicare and Social Security as we know it. Nor will it take away health care for our brave volunteer first responders, which is what Bob Turner wants to do."