After Twilight, The Vampire Diaries, four seasons of True Blood, the Otto Penzler-blessed story collection, and countless imitators beyond them, you would think the vampire trend—and all awful associated press-releases with it—would have ceased by now (if not for the demands of vampire-sick culture critics), or at the very least, relented.
Think again.
A press release we just received:
Vamps at Sea – Finally a Cruise That Sucks in a Good Way

WINNETKA, CA:

Vampire fans from around the world will converge upon Alaska next June for Vamps At Sea: a Vampire Convention at Sea – June 23-30, 2012. Special guests include Dracula author Bram Stoker's great grand-nephew, Dacre Stoker, author of Dracula The Undead the sequel to Dracula: Bram's relation will present powerful new insight into Dracula and the vampire mystique that has been sinking its teeth into vampire fans worldwide for nearly 100 years. Joining Dacre will be PhD candidate and vampire scholar John Edgar Browning. John's expertise is vampires in film, television and literature. He will be hosting a vampire film festival on board and his presentations will feature his research on "Real Vampires in New Orleans."

A Vampire Ball; Scareoke Party; Costume Contest; Auction for Charity (proceeds going to the Blood Donor division of the American Red Cross); Team Trivia Contest; Vendors Room; and a weeklong Scavenger Hunt rounds out the weeks activities.

Holland America's Zuiderdam will visit the classically beautiful ports of Juneau, Glacier Bay, Skagway and Ketchikan. Events will only take place when the ship is at sea…never during port times.

This is a private event and must be booked through Cruises Cruises Cruises, Inc. Cruise fares start at $1060 per person, based on double occupancy. Vamps Event Fee is $150.

For more information visit:
www.VampsAtSea. com

Facebook: Vamps at Sea
Twitter: @VampsAtSea
From the website: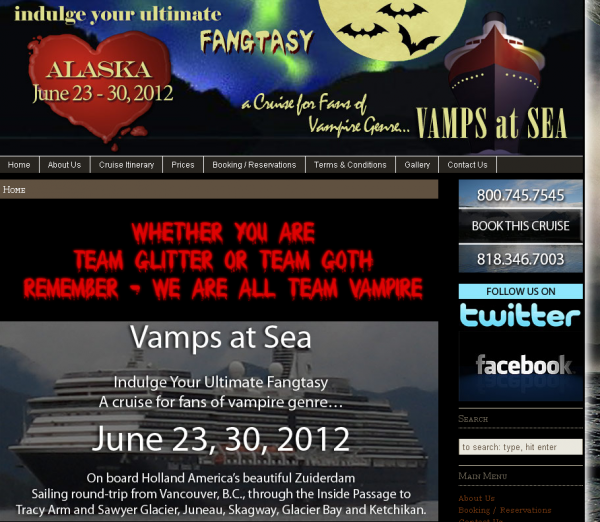 A totally casual assessment of the last half-decade in publishing would show that if you didn't think a single industry could be kept alive by Sarah Palin, Oprah, Boy Wizards Who Look Like Observer Writers, and Vampires, you'd be wrong. So on behalf of publishing, let these people have their cruise with Bram Stroker's…great grand-nephew. Whatever floats their boat. Literally.
fkamer@observer.com | @weareyourfek