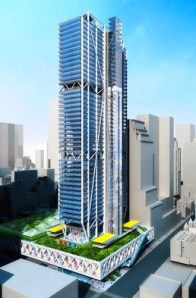 It has now taken Steve Roth a dozen years and almost as many extensions to keep his plans for a tower atop the Port Authority Bus Terminal alive. But with a deadline approaching Sunday to finalize a deal, The Journal reports that Vornado and the Port Authority are still far from a terminal tower agreement.
The 2007 deal called for the Vornado team to pay about $500 million over a long-term lease. In the latest round of negotiations, Vornado has been offering less money than the agency has been seeking, people familiar with the discussions said.

The Port Authority is hoping a final pact would provide the agency hundreds of millions of dollars that it would use to renovate and upgrade the bus terminal, the people said. "We continue to be in active discussions with them," said Steve Coleman, a spokesman for the Port Authority.
The Journal points out that while demand is rising for office space, vacancies are still high and there is plenty of competition from new towers coming online, stretching from the World Trade Center to further up 8th Avenue. Not to mention a rival in Mr. Roth's own 15 Penn Plaza.
Vornado could always get another extension, of course, just as a well-connected developer should.