As
unfortunately predicted yesterday
(and as
coined by a reader
), welcome to Wall Street's Facepalm Friday! Wherein every other newspaper in the Western World (and beyond!) uses the same fifteen people who work at the New York Stock Exchange—where less than ten percent of all NYSE trading happens—make newspapers around the world, because nothing illustrates a falling stock market and its implications better than a guy grabbing his face.
Mind you: face-grabbing is likely a daily routine at the New York Stock Exchange, and on less public trading floors around the world, much worse is likely. Yet, without fail, every time "the market" goes down, these guys go up…above the fold! A small sampling of newspapers using one of the most brazen cliches in finance journalism we found before we
literally lost count
:
For what little art direction credentials we have, however, their cover story might not exactly be nuanced, but AM New York—one of the city's two free newspapers shoved in your face as you get on or off the subway—takes the cake: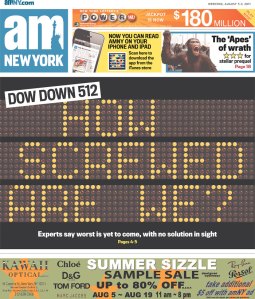 Though on the front of their website, right now, of course: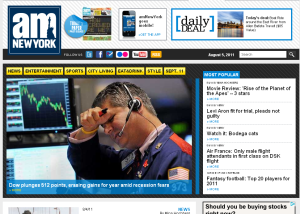 Facepalm Friday, indeed.
fkamer@observer.com | @weareyourfek