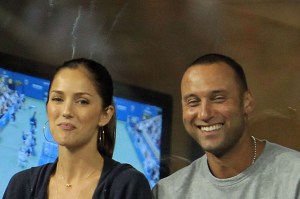 New York's hit king has dropped his catch and singled! Derek Jeter, a hero to Yankees fans and schlub lifers alike, has split with Minka Kelly, his actress girlfriend of three years. Just Jared had the scoop just after midnight last night.
"The split was amicable," sources exclusively tell JJ of the 37-year-old Yankees superstar and 31-year-old actress. "But they remain friends. They still really care for each other."
Both have been quite busy lately — her with the small-screen "Charlie's Angels" reboot, him with becoming only the second shortstop in history to break 3,000 hits.
Anyway, come this October, expect the single Mr. Jeter to be hitting the town. Don't strike out, Jeter!