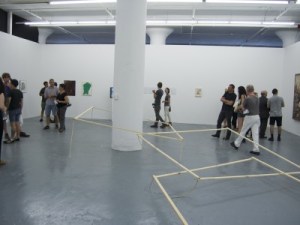 There was some drama last night at the opening of West Street Gallery's "Heads with Tails" at Harris Lieberman's temporary space on West 26th Street. In the corner of the gallery someone had nearly tripped over what appeared to be a bundled up sweatshirt that rested on the ground. There was no doubt it looked like a discarded article of clothing, but there was something ominous about it, how out of place the black clump of fabric was in the stark and bright gallery. A group of people formed a barricade around it for protection. It turns out it was a piece, Michael E. Smith's Untitled. The materials used were, "Sweatshirt, polyester resin."
"We were interested to do a truly curated show in August when that's not really the MO," said Alex Gartenfeld, who runs West Street Gallery with Matt Moravec.
The works, which will be on view at Harris Lieberman until September 9, were minimal without being ironic, funny but never precious. Mathew Cerletty's pencil drawing of a squinting, bearded Philip Seymour Hoffman was surprisingly earnest, as was Sam Anderson's minimal portrait of Elliot Gould, wearing the same aloof frown he has in every scene of The Long Goodbye. PMD, an artist who sells work on the street on the Lower East Side, showed a painting of two abstract faces almost kissing, their form composed of shapes that looked eerily like a certain feature of male anatomy. It was called The Genitals. Mr. Moravec was talking about the piece when the artist himself called him on a cell phone. He was lost on the other side of town and didn't know how to get to Chelsea.
Anchoring everything were four short videos by William Wegman that balance formal technique with seemingly pointless humor (in Milk/Floor, the artist slowly crawls out of a room spitting milk out of his mouth; his dog Man Ray enters to lap up the remains). A tasteful use of absurdity was at the heart of the show.
"A lot of the work is a little more streamlined," Mr. Moravec said. Right as he said this, there was a sudden gasp in the room and a bald man's face turned red and frightened. He'd just kicked Josh Tonsfeldt's untitled wood sculpture, which was thin and wrapped around a white column in the center of the room.
"Yeah," Mr. Moravec said. "I have a feeling that's going to happen a lot."