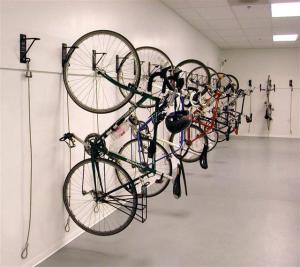 Bicycling can be a heated issue here in New York, but when it comes to bike parking, it's better not to be left out in the cold. That is why bicycle racks and rooms are booming in the city's apartment buildings, according to The Times, even at the cost of fancier fare.
At a building marketed by Halstead Property, +art, at 540 West 28th Street, a room off the lobby was to be used for cold storage, to hold deliveries from companies like Fresh Direct until residents returned home. But it is now being converted into a bike room. The grocery-holding room was moved to a reconfigured space in the basement.
In places you might expect, where the streets are thick with BroBos, the demand is so high, the bikes keep piling up:
The developers of 80 Metropolitan, a condo building in Williamsburg that opened in 2009 and is being marketed by Halstead, originally set aside 24 spaces for bicycles, all free. When those filled, they added 42 more. When those were taken, in went a hanging system in the garage for 22 more bikes. Now, there is a plan to add enough storage to accommodate the 12 cyclists on the waiting list.

Some of the established spaces were nabbed by Robert Schupp and his family, who live in a three-bedroom apartment in the building. Mr. Schupp, 41, his wife, Nona Reuter, 44, and their 8-year-old twins, a boy and a girl, moved to New York City from the Netherlands last fall. They have four bikes among them; the grown-up ones hang on racks fixed to the wall and the children's ones parked underneath.
What amenities—if any—would you sacrifice for bike parking? Let us know in the comments.