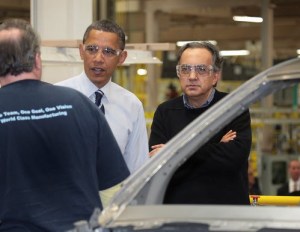 That's what Charles Gaeta, a Fiat specialist—as the carmarker likes calls to call its salespeople—told The Observer when we visited the Fiat studio—not dealership!—on Monday night.
"It's the Obama car," he said. "He put Fiat and Chrysler in a room together and said, 'Don't come out until you have a deal.' This car is made with an American engine, in Mexico, with Italian parts. In my opinion, it's one of the most patriotic cars you can buy."
The president might not be the best person to have in the drivers seat, though. Not only are his poll numbers the worst they've ever been, but hipsters are abandoning President Obama in droves.
Considering that hipsters and yuppies are Fiat's target demo, this could be an accident waiting to happen.