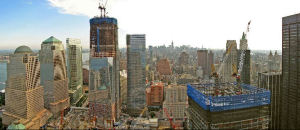 The Observer has heard some surprising ground zero factoids in the past couple days in some unsuspecting places.
The first came during the preparations for Hurricane Irene, when Mayor Bloomberg revealed that the World Trade Center was home to 13 of the 24 tower cranes in the city. That's more than half, which makes sense, given the enormity of the task, but also underscores the importance of the site to the city's construction industry.
Which was the point of yesterday's New York City Building Congress forum where the second detail came up. Defiant Port Authority executive director Chris Ward mentioned that 1 World Trade Center is now the tallest thing downtown. "At 1 World Trade Center, we are now at the 80th floor," he said. "One World Trade Center is now the tallest building in Lower Manhattan at more than 960 feet above street level, surpassing 40 Wall Street. Floor slabs for 1 World Trade Center are at the 71st floor and the glass curtain wall is up to the 52nd floor."
Put that to use at next week's pub trivia night.