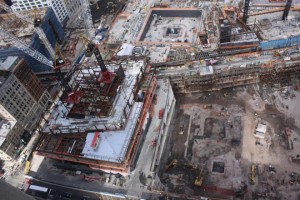 You can't have your cake and eat it, too, at least not at ground zero.
The Millenium Hilton downtown is suing the Port Authority and Silverstein Properties over construction noise at the adjacent World Trade Center site, despite supposedly using the hotel's proximity to the site as a tool to attract guests, The New York Post reported.
The Millenium says in the lawsuit that construction persists into the late night hours, disturbing guests and resulting in "hundreds of nights worth of business in a single month" lost for the hotel.
And, if yelp.com is a reliable indicator, there is evidence to that end. One former guest of the hotel says in a review on the site: "The [World Trade Center] is running crews 24 hours a day and you can go to bed to the sound of jackhammers and wake up to the sound of heavy equipment being moved onto the sight." Sounds lovely! Another guest noted that the Millenium offers white noise machines to guests upon check-in, but that he "didn't think any white noise machine known to man could distract one from the level of noise coming from the construction site." Incomparable views and cool high-tech toys. Sure beats the robot at the Yotel in midtown.
A Silverstein Properties spokesman told the Post that construction at the site stops at 6 p.m. every day, noting "Silverstein Properties is committed to being a good neighbor in the downtown community."
Contrary to all this, the Millenium says on its site that it is "proud to be part of the World Trade Center rebuild." Perhaps not anymore.
pengel@observer.com