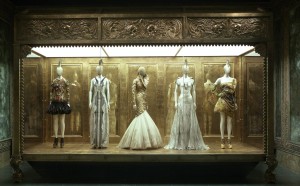 "You could identify one another in the Castro by a certain leather jacket in the '80s," the photographer Catherine Opie said last Thursday afternoon. "Your jeans rolled up, a pair of Doc Martens and cock rings on your jacket: 'O.K., I know exactly who you are.' And then Michael Jackson wore the leather jacket and it fucked us all up."
Ms. Opie, 50, was sitting on a stage in the basement of the New York Public Library as she explained the sartorial codes of San Francisco's queer community. She was wearing a flannel shirt, a brown newsboy cap and chunky white glasses. Next to her were sisters Kate and Laura Mulleavy, the women behind Rodarte, the Los Angeles-based fashion label that, after only six years in existence, has reached the pinnacle of couture.
The three women, along with Minneapolis-born photographer Alec Soth, have just released a book through the Swiss art publisher JRP-Ringier. Ms. Opie photographed some of her longtime models wearing the Mulleavys' clothes. The Mulleavys sequenced Ms. Opie's photographs in the book. "It taught me to give up some of my control," Ms. Opie told the crowd, which was filled mostly with women, most of them very young.
Mr. Soth's role was more unusual. The designers explained that they furnished him with a map marked with California sites that have inspired their work, which he used to embark on a two-week road trip, taking photographs along the way—a project that sounds more like a process-based conceptual artwork than a fashion shoot. Not a single piece of Rodarte clothing appears in his images.
As evidenced by this new book, which includes a text by the chameleonic critic and artist John Kelsey, and Rodarte's recent show at the Los Angeles Museum of Contemporary Art, the boundaries between fashion and art have, if not collapsed, at least become very blurry in recent years. Not that the fashion/art nexus is anything particularly new: artists and designers have long dabbled in each other's fields. The midcentury art dealer and patron Peggy Guggenheim once quipped, "I wore one of my Tanguy earrings and one made by Calder in order to show my impartiality between Surrealist and Abstract art."
"Every few years someone asks, 'Is fashion art?" Dilys E. Blum, the curator of costume and textiles at the Philadelphia Museum of Art, told The Observer. As Fashion Week drew to a close, we'd called her with roughly that same question, after attending the Rodarte event, and eyeing the banner attendance numbers that the Metropolitan Museum of Art posted for its recent Alexander McQueen retrospective.
But maybe it's not a very interesting question anymore. Maybe a better one is, "How are the two industries transforming, learning from and feeding off of one another?"
"Savage Beauty" was in almost every way a triumph, bringing in 661,509 people during its three-month run; it's the eighth-most popular exhibition since the Met began tracking such figures about 50 years ago. Critics, including New York Times art critic Holland Cotter, swooned. Depending on one's perspective, the response to it seemed to present the possibility of either a terrifying or a tantalizing future for art museums everywhere: blockbuster designer bringing glamour—and the clamoring masses—to their halls.
But perhaps not. "There are not that many real designers who would capture the public imagination the way McQueen did," Ms. Blum told us. "The risk is that people's expectations will be that every exhibition is a McQueen, and if it's not, it's a failure. These shows can become big extravaganzas, and I think we're sort of running out of key players."
Harold Koda, one of the Met Costume Institute curators who organized the retrospective, agreed. McQueen was, in some sense, an easy sell, he said. "The challenge," he said, "is to bring in other designers who have equal influence who might seem more elusive in terms of what their contribution is because on one level they seem so familiar."
Take the case of the Guggenheim's 2000 Giorgio Armani show, which was savaged in part because the Italian designer was reported to have made an eight-figure donation to the Guggenheim foundation. "The art press had difficulty with seeing unstructured suits in one tone as art," Mr. Koda, who also worked on that show, said. "It looked too much to them like what they saw not only in department stores, but on the street. It was my failure to communicate the distinction of his accomplishment."
However, it may not be fair to blame curators for that problem. Mr. Koda noted that when Artforum, the art world's journal of record, put a dress by Issey Miyake on its cover in 1982, it was, like McQueen's work, intensely sculptural. "People from a fine art focus tend to overlook what they see as more quotidian or prosaic designs when in fact those are the ones that culturally wield the most influence," he said.
Artforum has become more open to fashion in recent years: it now runs ads from top fashion brands (Marc Jacobs, Louis Vuitton) and jewelry designers (Bulgari), though only in certain positions in the magazine, a decision it reportedly made only after much soul-searching, as Sarah Thornton wrote in her 2008 book, Seven Days in the Art World. The magazine occasionally runs articles about fashion, albeit only a very particular subset of it.
The Met has on tap for next spring a two-person show, combining the midcentury Italian designer Elsa Schiaparelli, who collaborated frequently with Surrealist Salvador Dalí, with the contemporary superstar Miuccia Prada. Though a 2003 Schiaparelli show that Ms. Blum organized in Philadelphia was a hit—people still talk lovingly of an opening party replete with madcap outfits—it remains to be seen whether this forthcoming show will draw the same crowds as the exhibition of McQueen, whose extroverted designs and tragic biography were tailor-made for the museum blockbuster.
But while fashion shows may not be the magic bullet for art museums looking to draw crowds, many sectors of the art industry increasingly resemble fashion houses. In a nod to Warhol, contemporary artists' studios are often described as factories, but a more apt comparison might be the ateliers of fashion designers, expertly crafting products at a variety of price points, including perfume and accessories for those who find four-figure dresses beyond their means.
Visiting the Gagosian storefront on the Upper East Side a year ago, The Observer overheard a woman asking a salesperson the price of a long marble bookshelf by the designer Marc Newson. "Oh, wow," she said quietly, upon hearing the price. The saleswoman informed her that the store also stocked books by Mr. Newson. "They are $80." Gagosian, as The Observer noted last month, recently dropped its Gallery surname in ads, becoming a brand that transcends art; the store now carries a line of bracelets by jewelry designer Delfina Delettrez.
And contemporary artists have frequently crossed into fashion in recent years. Richard Prince and Takashi Murakami have designed handbags for Louis Vuitton, and the latter's touring retrospective featured an entire boutique from the French luxury brand. Earlier this year, a group of artists, including Damien Hirst and Enoc Perez, created bags for a Christie's charity auction engineered by the Warhol-enamored collector Alberto Mugrabi.
Even among the downtown set, fashion is playing a role of sorts. Artist Emily Sundblad—Mr. Kelsey's partner in the Lower East Side gallery Reena Spaulings Fine Art—hung a long Proenza Schouler dress on the wall in her recent show at the Algus Greenspon gallery in the West Village and donned the costume when performing at the gallery. And K8 Hardy has long been designing clothes. "Every article of clothing is so loaded with signifiers," Ms. Hardy told The Times in 2009, sounding a lot like Ms. Opie.
Meanwhile, luxury labels have been appropriating the codes and content of the art world with ferocious speed. In 2008, Chanel commissioned architect Zaha Hadid to create a temporary gallery that the label filled with contemporary artworks and planned to tour around the globe; it stopped in Hong Kong, Tokyo and Central Park, but was stalled by the recession, before it could move on to London, Moscow and Paris.
Last week, when the CEO of Louis Vuitton, Yves Carcelle, announced that he would retire at the end of next year, he said that his next job would be as president of the Louis Vuitton Foundation, an art collection that will be housed in a $142 million Frank Gehry-designed museum in Paris.
As luxury brands embrace art, the market for vintage couture has also begun to develop along the lines of the art market, though the focus is, with a few exceptions, on work from the 1970s and earlier. "There's a movement toward buying couture as works of art, not for wearing, but as an object," said Pat Frost, director of costumes and textiles at Christie's, who organized the sale of the late fashion editor Isabella Blow's clothing collection.
"Because of various blockbuster museum exhibitions, it's more on the radar to museum curators and acquisitions boards," said Ms. Frost. "I think it probably helps museum curators to persuade their boards that they should buy costume or couture if it has a link to the art world, which is a system of values which is well understood by museum boards, whereas couture perhaps isn't." McQueen, in other words, is in; subtler, lower-profile innovators are out. She listed Paco Rabanne, Issey Miyake and Martin Margiela as designers who could arouse similar interest.
Collectors looking to stockpile contemporary couture in the manner that Mr. Mugrabi hoards Warhols are likely to be disappointed, however. "McQueen was notoriously expensive, because they were one-off sculptures," Ms. Frost said. "If you're talking $6,000 or $7,000 for an evening dress two years ago, it's going to take a long time for it to get to that level in the art market, shall we say."
Today's confluence of art and fashion is perhaps defined best in the person of British heiress Daphne Guinness, prodigious collector of clothing and friend to McQueen and a handful of other avant-garde designers. Ms. Guinness is currently the subject of an exhibition at the museum of the Fashion Institute of Technology, which is filled with clothing from her wardrobe, including a number of pieces by McQueen.
The show features the same moody, dramatic lighting as the Met's McQueen show. As Ms. Blum predicted, though, it feels like a letdown after the Met's magisterial production, which was personally overseen by the designer's production managers. How could F.I.T. possibly compete?
The opening reception for the event was pure mayhem: vertiginous heels, a man in a wedding dress, a woman in a bathrobe and leather boots. Not exactly the Chelsea gallery crowd. The Observer buttonholed Helene Verin, a shoe designer who is an internship counselor for accessories students at F.I.T. and asked her what we should make of Ms. Guinness, a woman famous for wearing clothes. "She serves a role," she said. "She's the muse."
Ms. Verin was wearing an orange circular Hermès box on her head—a headpiece called a "fascinator," as a tribute to Ms. Guinness, who has made the accessory one of her trademarks. Her dress and bag were also trimmed with the label's trademark orange, and dotted with its logo. "Do you think it's overdone?" Ms. Verin asked.
We mentioned that we typically cover art events. "Andy Warhol was my friend," she told us. "He did my portrait."
The invocation of Warhol seemed apt. Ms. Guinness and her compatriots embody the artist's dictum about 15 minutes of fame to a degree that, again depending on your perspective, is horrifying or sublime, or both. Everyone is an artist, as Beuys said, and everyone is staring. Part of us wished we had dressed as ornately.
We asked the woman in bathrobe and boots, Elisa Goodkind, about her background. "I used to work in fashion, but now I work in style," she told us. "One is an industry that is about selling, and the other is about soulfulness and self expression."
Ms. Guinness, as it happens, has recently taken to referring to herself, on some occasions, as an artist. She makes videos—some are included in the F.I.T. show—and back in May she did a performance before the Met's Costume Institute gala, in which she got dressed in a window of Barneys.
At the press conference on the morning after the opening, we asked Ms. Guinness which contemporary artists inspire her. She demurred. "I'm more of an Old Masters fan," she said. "I love Old Master drawings, like Zurbarán and the Spanish masters."
Ms. Guinness speaks softly and thoughtfully, with a perfectly pitched élan easily associated with aristocracy. "I like some contemporary art," she continued, "but by no means all. It's difficult to say contemporary artists off the top of my head, because I'm always going back to the past."
What about her performance? "I sometimes get myself into situations in which the only way through it is to do a performance," she replied. "To make things relevant in their context, to contextualize why they were done." There is fashion, but sometimes one has no choice other than to make art.
arusseth@observer.com