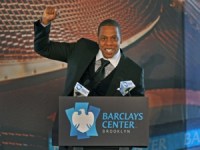 The Observer arrived at Pier 54 yesterday evening before the festivities began. Preparations were in their final stages for Jay-Z's fundraiser carnival benefiting his charity the Shawn Carter Foundation. As we entered, we nearly ran into what we initially thought was light pole covered in vinyl fabric, only to look up and realize it was in fact a performer wearing massive stilts, trying to maneuver his way through the electrical cords and maze of red velvet ropes.
Three women with full vaudevillian make-up and towering headpieces were standing in the middle of circular champagne bars, their dresses appearing to be extensions of the bars themselves. Their bright smiles faded when it began to drizzle, and burly men soon scooted the women with their bar/dresses under a tent. The army of people setting up the event looked at the ominous skies, hoping it was a passing cloud. Things weren't looking great as a powerful gust overturned two umbrellas, nearly sending them into the Hudson. Party planners' prayers were answered, however, and the skies soon cleared. It remained a cool, blustery night but the rains held off for Hov and his elaborate party.
The Root's coiffed and charismatic drummer ?uestlove appeared on the red carpet, sporting his signature 'fro pick and a red heart pin affixed to his lapel. The Observer asked ?uestlove (it's "Questlove" for you non-indie rap or Late Night with Jimmy Fallon followers) what talent he would best perform at a carnival. "When I was ten, I learned how to eat fire from someone that was in the sort of carnival business," the enigmatic drummer admitted, much to our surprise. "She had the ability to set her tongue on fire. I tried it; it was a close call but I almost burnt my hair off," he said gesturing upward at his impressive halo of hair.
Guests soon arrived, and an unseen DJ off behind a booth began to run through Jay-Z's greatest hits, maladroitly mixing the songs and interjecting his own unrelated shout-outs throughout. An unlikely melange of entertainers, music execs, sports stars and corporate bigwigs soon arrived, stopping at the bar-ladies for glasses of champagne on their way inside. Paula Zahn, CC Sabathia and Kevin Liles appeared, along with an array of suited yuppies who turned out to support the cause.
Even the most well-heeled guests were flustered when the man of the hour appeared at the Pier. Jay-Z, dressed in black jeans, black sneakers, and a black coat, casually strutted through the gates and almost immediately every phone and camera in the area was pointed toward him. The rapper turned media mogul turned father-to-be posed for photos and genially chatting with reporters about his foundation which provides college scholarships for high-achieving students.
The Observer asked Jay-Z why he chose college as his cause célèbre. "I think that there will be way more professions than there are artists," he said with a hearty dose of realism sure to disappoint many aspiring rappers. "I think people need to be prepared for you know, this century and the next century and beyond. And you know, especially with computers and everything, and the whole.." he stopped, looking around. "The music is really loud…," he said as one of his songs blared in the background. "…the whole middle class almost being nonexistent right now," he continued. "And really just, if someone applies themselves and can't go further because of their financial situation, I think that's like a shame. You know if you want to be lazy that's a different thing," he added. He fielded questions about what may be the most hyped fetus of the decade, but remained mum on details, claiming that he was more excited than nervous and that he was looking forward to being a roll model for his child-to-be.
Behind the red carpet a good old fashioned carnival underway. Guests bought tickets ($10 a pop, mind you) and played classic games from the ring toss to skee ball. An elaborate Dunk the Clown game was set up, with guests showing their competitive sides as they tried to send the hapless clown into a tub of water. "Premium prize games" (which cost ten tickets each) were offered as well, with prizes like spa packages, vacations and designer bags for lucky tossers, shooters and dunkers. A mini Ferris wheel, "fun slide" and a spinning ride didn't attract too many patrons, however, who clearly preferred to spend their tickets on prize-winning pursuits.
Although guests coughed up cash for the games, free food from The Spotted Pig and Momfuko was offered, with several food trucks and stands set up throughout the pier. Revelers indulged in mini-burgers, hot-dogs, cheese beignets and hand-cut fries, enjoying cookies and those famed apple-pie bites for dessert. Salted caramel popcorn, artisanal potato chips, and an entire candy truck were also on hand, creating an authentic county-fair smorgasbord feel.
Jay Z was surrounded by crowds of friends and admiring guests throughout the night, barely getting the chance to show off his carnival game skills. He seemed in good spirits, however, laughing with cohorts and humoring giddy fans who hardly hid their excitement at meeting the rap legend. Perhaps it's the expecting father glow?
We tried to have our fortune told by a bewitching blonde medium with a pack of tarot cards, but several guests were already awaiting her services. As we left the party, we noticed a fleet of policemen standing outside. It was unclear if they were in fact protecting the venue or trying to get a glimpse of Jay Z. Walking up the West Side Highway, we turned around and saw the flashing carnival lights in the distance.