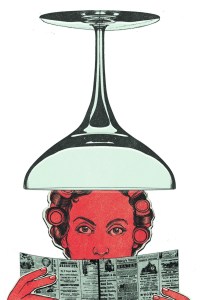 We weren't three minutes into our pedicure—or two toes—and already The Observer was getting wasted.
The place was Dashing Diva in Greenwich Village, a chain nail salon with 12 locations in the city and two in California. The place's decor resembles a little like what might happen if Elle Woods met Malibu Barbie. The only part that isn't either bright pink or white are the racks of multicolored nail polish on the walls. The pedicure station is a banquette of pink pillows, cut off from the rest of the salon by a wall of mini pearly-pink tiles. It's a nice place to get plastered.
We were there for "Girls Night Out," a weekly promotion that offers a free Cosmopolitan with any manicure or pedicure on from 6 to 9pm on Thursdays and Fridays. This particular salon touted a one-drink limit (at least that's what it said on FourSquare), but we knew better. Besides, we were paying $40 for this pedi.
"You want water or Cosmo?" the pedicurist asked, only after enticing us into paying $5 extra for a mandarin orange salt soak. $45. "Cosmo," we replied.
The Observer sipped. Svedka was our best guess. There was only one other customer, and she was not partaking. We felt like the old man at the dive bar—a lost, lonely soul, slinging back cheap whiskeys and searching for a friend. Except this time there was someone scrubbing dead skin off our feet.
The pedicurist noticed the empty glass. "You want more?" she asked.
As she returned with another, we began asking questions. Who makes these? What ingredients do you use? She didn't know, she said. She just poured them from a jug in the back.
"You very funny," she said and kept scrubbing.
It was then that the other customer noticed our beverage. "What is that?" she asked.
"It's a Cosmo."
"Oh, like on Sex and the City!"
She ordered one, and we felt better. Looser. Thirstier. We asked for one more.
"Usually customer only get one," she said. "You drunk?"
"No. Are you kidding? Not at all!"
"You drunk! Your face red!"
Was it? Oh, god.
"Listen, I'm a bartender," we said. "There's no way I'm drunk off two Cosmos."
"Ooooo-kay." She laughed, then she got us another drink.
It's not uncommon to walk into a salon—whether hair or nail—and have an alcoholic beverage offered to you while your perm sets or your dye soaks or whatever shellac you might have dries. In fact, it's quite de riguer.
"I'd say most New York City salons serve wine, at least after 3 o'clock," said Joe, who's been a hairdresser at upscale salons in the city for seven years. "I don't really know about like, New Jersey though."
For most women, this is not news at all. The Observer was served our first glass of wine at age 20, by Joe himself (one of the few reasons he wanted to withhold his last name).
It a wonderful practice, isn't it. But is it legal?
According to the New York State Liquor Authority, it isn't—at least, not without a liquor license. And, though a spokeswoman for NYLA said she was "sure there are a couple" licensed salons in the state, the authority was unable to name any. "We don't organize them that way," she said.
The Observer attempted a painstaking, manual search through the list of 30,445 licensed venues in New York county, but we could not find a single licensed hair salon.
Salons in general don't profit from alcohol. They serve it up gratis—either as a polite gesture, an attempt to allay the anxiety that can accompany a radical haircut, or a marketing tactic. Which is why going through the hassle of procuring a license hardly seems worth the trouble. Especially since, as Joe told us, salons have been serving alcohol without complaint for "as far as I know, forever and ever and ever."
They just don't know they're violating the law.
At the high-profile John Barrett salon above Bergdorf Goodman, Heather, a manager who declined to give her last name, wondered why we were asking if they served wine. After all, what did it matter? "I'm pretty sure it's legal to serve it, as long as we're not selling it," she said.
We told her the truth. We also told her that we had been told that the salon did in fact serve wine—by the receptionist! Like two minutes ago!
She explained that yes, the salon would offer wine, but added that technically customers would be buying it from the restaurant downstairs. "We're a corporate salon," she said, "so we have to cover our asses."