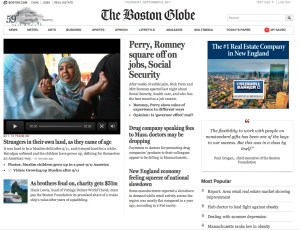 The Boston Globe launched a paid subscription website today, BostonGlobe.com. The site has been spun off from the general news and information site Boston.com, where the Globe previously occupied a vertical.
"The Boston Globe has never had a front door on the internet," said editor in chief Martin Baron. The Globe is owned by The New York Times Company.
Home delivery subscribers can access the site for free and a digital-only subscription will cost $3.99 a week, beginning October 1. Coldwell Banker is sponsoring a free trial through September 30. Unlike the New York Times pay wall, BostonGlobe.com will not be metered, though it will support one click when accessed through search and social media.
The spare Globe website has a responsive design that adapts to different window sizes, browsers and devices, and it has a built-in Instapaper-type feature that saves articles for reading off various devices on the subway. The overhaul has incorporated the talents of Boston design firms Filament Group, and Upstatement, as well as a large internal team, and pre-empts the need to build separate apps for each device.
"It's designed to be read," publisher Christopher Mayer told The Observer.
At least for a certain kind of reader. In erecting the paywall, Mr. Mayer has divided his readers into two fundamentally different camps. The Boston Globe readers who read the paper deeply each day and value journalism enough to pay for it are rewarded with a streamlined design, and the free Boston.com will continue to serve more casual news readers, as well as catch SEO traffic, on a noisier site with more display advertising and shorter articles.
The two newsrooms are integrated, and some Boston Globe content will still be published for free on Boston.com, in particular breaking news, sports, photo features, and community blogs. Boston.com editors will pick five Boston Globe stories to run at full-text each day.
As for Boston.com's makeover, it'll get underway in 2012.