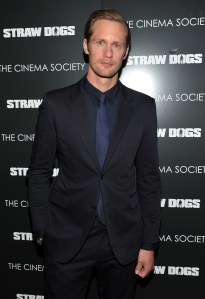 Alexander Skarsgard was in town? Really? For something other than the Straw Dogs premiere? If the filming for What Maisie Knew was a little more conspicuous, we might have gone down to Chinatown and tried to talk to the True Blood star himself.
As it was, we just happened to stumble into the wrap party for the movie — a Henry James novel adapted by way of The Squid and the Whale that costars Steve Coogan — as it was winding down at a bar near 46th and 10th street last night.
"You just missed Julianne Moore!" one enthusiastically wasted crew member told us.
Ms. Moore is wonderful, but we needed to know: What was Alexander Skarsgard like? With Straw Dogs and Melancholia currently in theaters and two other films (Battleship and Disconnect) on the way in addition to Maisie, Mr. Skarsgard is quickly becoming the Eurotrash Ryan Gosling. He's everywhere. Except where we were, of course.
So: Was he as uninteresting as that GQ profile made him out to be? (He loves whales, is very tall, and his dad is very big in Sweden.)
"He was really…tall," confirmed our new best friend. "He seemed kind of boring. I stood next to him."
Earth to everyone: It's officially been confirmed that Alexander Skarsgard is a very tall, blonde, bland, banal guy. Who is secretly a vampire model. We guess those homoerotic thrash-metal days are behind him now that he's a big star.