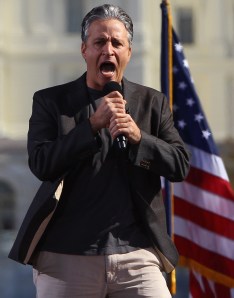 "I know we're late," Jon Stewart told his audience on Sept. 20, his first post-9/11 show. "They said to get back to work but there were no openings for a man in a fetal position under his desk."
Prior to that Daily Show broadcast, you could be forgiven for thinking that Jon Stewart didn't stand for much, that he was a slacker-cynic, an animated version of The Onion. But this was no longer possible after that show, and the choked conclusion of his heartfelt monologue on the shared pain the event had visited on New York.
"The view from my apartment was the World Trade Center and now it's gone," he said, tears in his eyes. "They attacked it. This symbol of American ingenuity and strength and labor and imagination and commerce. And it is gone. But you know what the view is now?" His voice cracked. "The Statue of Liberty. The view from the south of Manhattan is now the Statue of Liberty. And you can't beat that."
If the words appear flat, it's because they don't entirely make sense. Without emotion it reads like he'd been meaning to get rid of those towers for months, blocking his view of the statue as they were. But uttered on air, they had the raw pain and realization that anyone who was here then felt so acutely. Here was the class clown bleeding on his fake news desk. People paid attention. Overnight, Jon Stewart had a new weapon in his holster—sincerity.
He would drop the wisecracks to have a heart-to-heart with America, and its blogs, more frequently over the years, but anyone with a glancing familiarity with the show knows this. His plea that the hosts "stop hurting America" effectively canceled CNN's doofy debate show Crossfire in 2004. When Robert Novak wrote off Mr. Stewart's Valerie Plame criticism as satire, Mr. Stewart responded to the response, half-kidding, to clarify that he'd made his remarks "because I sincerely believe you're a terrible person." During the financial collapse, everyone got things out of their system through a dead-serious populist tongue lashing of CNBC's Jim Cramer. "I know you want to make finance entertaining," Mr. Stewart inveighed, as Mr. Cramer sweat. "But it's not a fucking game."
He recanted snark from his younger years to refer to a Charlton Heston speech he'd heckled when Moses refused to move the NRA's annual meeting from Colorado after the Columbine massacre. He did this to make a serious point about the mosque near Ground Zero.
The 10-year Jon Stewart earnestness tour culminated in his Rally to Restore Sanity and/or Fear, which brought some 200,000 to the Washington Mall and was a celebration of pure sentiment. The rally eschewed meaning: it positioned itself contra Tea Party outrage while simultaneously pinning the Tea Party's creation on cable news so that no one was ever actually blamed for, well, whatever the problem was. Mr. Stewart offered the head-scratching advice that we conduct our national discourse as we would allow others to proceed at a four-way stop sign. What was he trying to do? One thing about the event was clear: up on the mall in his bulky stars and stripes get-up, Jon Stewart was awkward and vulnerable, speaking from a place of honest belief in genuinely confusing times.
Today, he sits on the board of the 9/11 museum, and in the years since his initial remarks, he is never more effective with a straight face than when he's talking about 9/11. He dedicated his entire last episode of 2010 to the Zadroga health care bill for 9/11 first responders, hosting a few of them as his guests that evening. When the bill passed without cancer coverage, he was outraged. "I thought we already took care of this shit!" he yelled, and proposed a new rule. "How about everyone who worked down there on the pile gets a pass … so if you're someone who spent time on the pile, I don't care if you're someone who ate 200 Sweet'n Low packets a day, sprinkled on your favorite cereal Tumor-os while wearing a cell phone suit and smoking Chernobyl Lights unfiltered while making regular stops to your favorite snack joint, Agent Orange Julius. You get cancer, we cover it!" Between cheers, the crowd was cracking up.
dduray@observer.com