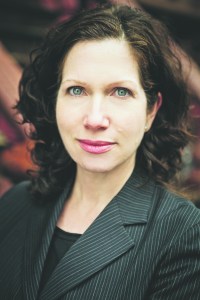 Amy Waldman did not read most of the 9/11 novels before she started writing her own. DeLillo, Amis, Updike, Foer—she didn't need to read them. Ms. Waldman was in New York on the day itself, in Afghanistan in the aftermath of the U.S. invasion and in South Asia as the United States dug in to combat in Iraq. Having watched the new world order evolve both here and abroad, the book that she eventually decided to write is more a synthesis of her firsthand experience as a reporter than an examination of collective memory. But what's remarkable about her new counterfactual novel about the World Trade Center, The Submission, is that it will likely be remembered as one of the first satires of post-9/11 New York City: a place where tragedy is exploited by the ambitious and powerful to self-interested ends. Ms. Waldman's New York, in other words, is one where sacred cows are routinely slaughtered—starting with the gingerbread reconstruction of "the vanished towers" (never to be named in the book) baked by the chef at Gracie Mansion. "The shapes were unmistakable," Ms. Waldman writes. "It's not meant to be eaten," says her chef.
The Submission begins with a simple premise: the winner of a blind contest to design the 9/11 memorial (though the date itself is never mentioned) turns out to be a Muslim. Political cacophony ensues as reporters inflame hysteria, politicians exploit prejudice, surviving family members affect grief in the service of self-promotion and community activists manipulate identity politics. At issue is the memorial itself: is it a space for sober meditation or is it an "Islamic garden" that "memorializes Jihadis"? The problem is exacerbated when the garden's designer, Mohammad Khan, refuses to declare his design one or the other.
"I didn't really think of it as a 9/11 novel as I was writing it," said Ms. Waldman recently during an interview at a coffee shop near her home in Clinton Hill, Brooklyn. "It was just this particular scenario was interesting to me. I wasn't particularly interested in trying to capture that day in fiction because I felt like we all had lived through it so many times, on the day itself and then in endless replays."
If Ms. Waldman is acting in a literary tradition, it is not that of the 9/11 novel but rather the striated New York society of Tom Wolfe's The Bonfire of the Vanities, where characters glide seamlessly forward in their individual trajectories until an upset forces them to collide.
Ms. Waldman said she tried to avoid mixing up her characters with real-life players. She contemplated meeting with Michael Arad, the memorial's real-life designer (he's a London-born Israeli-American) but decided against it, saying that she would feel a reportorial responsibility to stick to the facts (a spokesman for Mr. Arad said the architect had not read the novel). Some characters are impossible to disguise, however (The "flamboyant real estate mogul with a toupee and an inestimable fortune"? The "president who once owned a baseball team"?) And the city's newspapers, of course, are characters by name. The New York Post, the Daily News and even The Observer, which illustrates an article about Mo Khan with "a color drawing showing an ominous-looking Mo looming over a shrunken Manhattan."
Ms. Waldman grew up in Los Angeles and studied at Yale. After graduating from college in 1992 she went to work as a volunteer teacher in South Africa, first in Cape Town and later in Johannesburg, picking up freelance reporting jobs along the way. Taking advantage of the momentous political shifts in the waning days of apartheid, Ms. Waldman got her first bylines in The Times, working for Bill Keller, who was then stationed there as a reporter.
"Amy was stringing, mostly for alt-weeklies, when I met her in South Africa," Mr. Keller recalled via email. "She always seemed to be in the right place—the protest, the campaign rally—arriving in a bright yellow V.W. bug that resembled an engorged bumble bee. I hired her to help out so that I could be in more places at once, but she also wrote several pieces under her own byline."
He remembered in particular a "smart piece" Ms. Waldman wrote about death row inmates who could not vote but were anxiously monitoring the rise of the African National Congress, which had promised to abolish the death penalty. "I like to claim that I discovered her, but the truth is I just got lucky," he wrote.
Ms. Waldman returned to the United States in 1994 and went to work as an editor at The Washington Monthly, a famous training ground for young reporters. Joseph Lelyveld, then executive editor of The New York Times, hired Ms. Waldman in 1997. She started out on the metro beat, first in Brooklyn doing night rewrites and later in the Bronx and Harlem.
On Sept. 11, 2001 Ms. Waldman was in the office early to cover the mayoral primary election scheduled for that day. She had just arrived in the lobby when she heard people discussing that a plane had hit the World Trade Center. By the time she arrived upstairs, the second plane had hit. She spent that first day making phone calls to companies that had offices in the towers and within a few days had begun reporting from the site itself. Her stories from that time are echoed in the pages of her novel: she wrote about law firms and banks trying to account for the employees who worked in the World Trade Center; about homemade memorials placed around the site; about letters written to cleanup crews by schoolchildren; about the families of deceased firemen in Staten Island and about an American imam in Brooklyn.
Six weeks after Sept. 11, The Times dispatched her abroad, first to Russia and then to Iran. She had only just arrived in Iran when word came in that the Taliban had fled western Afghanistan. Ms. Waldman crossed the border on foot with the Times's Persian translator and their wheely suitcases, while the Afghan guards stared. She spent the better part of that year reporting on post-Taliban Afghanistan, initially from Herat and later from Kandahar. A year later, she was transplanted to the Times's South Asia bureau in New Delhi, reporting from across the region, and making more trips to Afghanistan, as the United States began the war in Iraq.
Given Ms. Waldman's journalistic background, it's notable that in The Submission it is the journalist character, Alyssa Spier, an amoral reporter from the New York Post, who plays perhaps the least forgivable role in the controversy over the memorial in the novel. "The only part that veered a bit into satire was the portrayal of the Post," wrote Mr. Keller in his email to The Observer. "I mean, the idea that the Post would twist the truth, invade people's privacy, sensationalize, even make things up, all in service of a grotesque hate campaign … I found that a little much." Alyssa, for her part, is uninterested in the "stodgy, mincing version of news" in the "blue-blood papers."