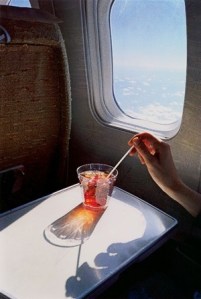 The Observer was watching a video by Jem Cohen at a press preview for MoMA PS1's forthcoming exhibition, "September 11," which opens this Sunday. In the video, a mob has overtaken the streets of lower Manhattan. Police are monitoring the scene carefully. The ground is covered in paper and confetti. Many members of the crowd are waving small American flags. The camera cuts to a group of men wearing shirts that say, "FUCK SADDAM." The film, Little Flags, was shot in 1991 at the Victory Ticker Tape Parade that celebrated the end of Desert Storm.
"When we watch it now, suddenly the imagery has been overtaken by the images of 9/11," said Peter Eleey, the exhibit's curator. "When we see a man trudging through those same lower Manhattan streets, covered in paper, and we see a police barricade, it feels very much like a film made on September 11, 2001."
The show is made up of about 70 pieces, many of which were made before 9/11. The exhibition, then, is more about how September 11, 2001 changed the experience of viewing art after the fact, and less about the day itself. This new kind of context gave certain works a more menacing appearance. William Eggleston's image of a hand stirring a drink on an airplane tray with a straw—the sky outside the plane's window blue and gleaming—seems to foreshadow some horror that will come next. Red Package by Christo, a rolled up tarpaulin bag tied with rope, took on the appearance of a stretched out body bag. The paper covering the street in Mr. Cohen's film was like the rubble from a falling building, the people in the street looking as much like a riot as a celebration.
Mr. Eleey is suggesting that our very perception has changed. For that reason, the show is intense, but some of it is less foreboding. Throughout, one can hear John Williams' schlocky score for The Patriot playing out of speakers ("This is very patriotic music," The Observer skeptically wrote in his notebook before realizing what it actually was). The music's inclusion was more sarcastic than anything, especially for its contrast to the nightmarish associations being awakened by some works.
One of the anchors of the show, however, Janet Cardiff's brilliant The Forty Part Motet, is elegiac, more earnestly sad than disturbing. The piece is made up of 40 speakers arranged in a large circle, each projecting a different vocal track, creating the effect, at once, of one continuous sound and separate voices competing over one another simultaneously.
"It was installed here in this same room in the weeks immediately after the attacks as part of [Ms. Cardiff's] retrospective that was presented here," Mr. Eleey said. "The particular combination of the individual voice and the collective song for me, and I think for many people, evoked the many personal effects of the tragedy and their sublimation into national tragedy. That then lead me to a number of other things. All sort of independent of 9/11."
There was no wall text. The work had to speak for itself. There was no single point being enforced, as if to say there are no explanations for tragedy to begin with. Hanging above Christo's red tarp-cum-body bag, for instance, was a warped American flag by Barbara Kruger from 1991. Its stars were replaced with a statement—"look for the moment when pride becomes contempt"—and its stripes filled in with questions. It said: "Who is free to choose? Who is beyond the law? Who is healed? Who is housed? Who speaks? Who is silenced? Who salutes the longest? Who prays loudest? Who dies first? Who laughs last?"