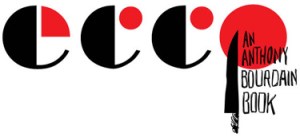 Bad boy chef, author of Kitchen Confidential and the host of the food television show "No Reservations," Anthony Bourdain has a new feather in his chef's hat: book editor at Ecco, an imprint of HarperCollins. Mr. Bourdain will join the growing ranks of New York publishing's celebrity editor/consultants, which include everyone from former Newsweek editor Jon Meacham to former Bush White House spokeswoman Dana Perino. According to the press release, Mr. Bourdain will "have an eponymous line of books at Ecco that will publish three to five titles a year." In a statement, Mr. Bourdain said:
We look forward to publishing an unusual mix of new authors, existing works, neglected or under-appreciated masterworks, and translations of people from elsewhere who we think are just too damned brilliant not to be available in English.  We're presently looking at an initial list composed of chefs, enthusiasts, fighters, musicians and dead essayists.
Fighters! Musicians! Dead essayists! Mr. Bourdain is not the only culinary consultant in New York publishing. Ruth Reichl, cookbook author, composer of sensuous food poems on Twitter and the former editor of Gourmet, has a consulting editor position with Random House.