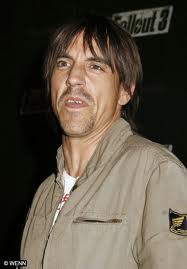 A video of Red Hot Chili Peppers' frontman Anthony Kiedis driving around Los Angeles with Ed Ruscha and talking about art is making the rounds on the Internet today. It's a promotion for Pacific Standard Time, a celebration of the LA arts scene that is taking place across Southern California (look for more of these gems in the near future). Mr. Kiedis doesn't say much, but boy howdy, the man who once penned the lyric "do me 'til I'm well done" might have a future in art criticism.
-"My favorite experience with art is visceral when I just see it and it makes me go: 'Oh! Oh! Oh, look at that! OH! Something great happened right there!'"
And later: "It's kind of like getting on a spaceship and going for a ride."
There you have it. Get this man an Artforum column.