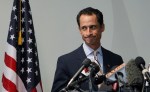 Disgraced ex-congressman Anthony Weiner met on Wednesday with Bob Turner, the Republican who won an upset victory to replace him in the House of Representatives.
The news of the meeting comes from Bill O'Reilly, the spokesman for Turner whom we profiled earlier this month.
In a blog post, O'Reilly writes praises Weiner for keeping the meetings secret.
But there [Weiner] was this Wednesday afternoon meeting with newly elected Congressman Bob Turner (R) at a Kew Gardens, Queens diner to download to his successor all the projects he had been working on for his former constituents.  No press was alerted to the meeting. It was held in strict confidence. And Mr. Weiner did not leak his good deed, which he easily could have sans fingerprints. He traveled out to his former district from Manhattan, where he now lives, because he cared enough to do it. There could be no other reason for his action, and it showed character.

I have a laundry list of philosophical disagreements with Mr. Weiner, but I am struck by his graciousness in meeting with Mr. Turner – a man from the opposite political party who ran against him in 2010 – to help Congressman Turner better hit the ground running.

Call Mr. Weiner what you want, but I call him a mensche today for what was supposed to be a quiet, unnoticed gesture.