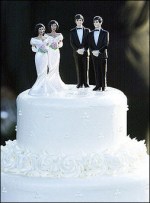 Tony Perkins, the head of the Family Research Council, is touting David Weprin's loss last night in a heavily Democratic district as proof of what a vote in favor of same-sex marriage can do to legislators who back it:
The polling makes clear that David Weprin's vote for same-sex marriage was the key factor in his defeat. A plurality of voters in the district are opposed to same-sex marriage and 29 percent saw the marriage issue as 'very important' to their vote.

This election would not have been close if Weprin had not voted for counterfeit marriage. Voters in the Ninth District sent a message to both Republican and Democratic parties that elected leaders can expect consequences at the ballot box if they choose to advance the redefinition of marriage.

New Yorkers come from diverse cultures and faiths but they understand why marriage has been defined throughout history as the union of one man and one woman. Marriage between a man and a woman is a longstanding, worldwide-supported institution that is a building block of society.

David Weprin's defeat and the move to add a marriage amendment to North Carolina's ballot are evidence of a growing realization that our nation's economic decline cannot be reversed until we address family breakdown through policies that encourage, and not hinder, family formation and marriage.
Same-sex marriage backers promised that they would continue to support lawmakers who backed the legislation long after it passed last year in order to send a message to wavering legislators around the country.