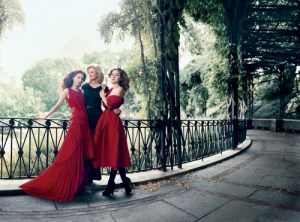 Arianna Huffington gets the Vogue profile treatment this week. It's online.
According to the profile, Ms. Huffington has not changed radically since her New Yorker profile in 2008.
"The most upwardly mobile Greek since Icarus," cf Michael White, remains the best thing ever written about her.
Elizabeth Rubin does, however, provide some insight into Ms. Huffington's New Agey enthusiasms like "recharging" and "joy triggers," which are somewhat unbecoming of a media mogul in the yachts-and-political-campaigns payroll bracket.
Other highlights:
She does not write; she dictates.
She was excluded from school parades due to her height. (This comes up in everything written about her, but she's only 5'10." Far from "freakish.")
Her current mentor is Twitter cofounder Biz Stone. "I feel he so gets where we are going as a culture."
This whole thing: "'Are you living your life for yourself or for others?' That is part one of the Zeitgeist. Part two is going local. 'That was my passion. As people are getting more disenchanted with the national level and focusing increasingly at the local level, they feel empowered. And AOL has a presence through patch.com that covers community solutions.'"
By far the best part, though, is about her daughters, who are very physically affectionate and have normalized their eating disorders. These happy to be our two favorite personality traits.
Christina wipes salad off her mom's lip. She twirls her mom's earlobe—"She's done that since she was a baby," says Arianna. It's the first time I see Arianna the worrier and overachiever—which seems strange given the 24-hour public life I've been watching. But children can say things that others won't. Like how Arianna was pushing her girls to crawl through mazes as infants because she read that crawling was good for the brain. Or how she breast-fed them both at the same time (they were only a year apart)—hence, they joke, their issues with food (both have battled anorexia).