Photo: Andrew Russeth
jhanasobserver1
Photo: Andrew Russeth
jhanasobserver1
Photo: Andrew Russeth
jhanasobserver1
Photo: Andrew Russeth
jhanasobserver1
Photo: Andrew Russeth
jhanasobserver1
Photo: Andrew Russeth
jhanasobserver1
Photo: Andrew Russeth
jhanasobserver1
Photo: Andrew Russeth
jhanasobserver1
Photo: Andrew Russeth
jhanasobserver1
Photo: Andrew Russeth
jhanasobserver1
Photo: Andrew Russeth
jhanasobserver1
Photo: Andrew Russeth
jhanasobserver1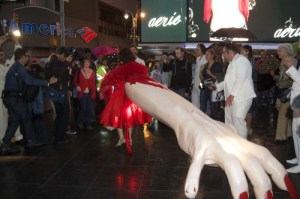 Yesterday evening in Times Square a white van pulled up across the street from Duffy Square, at 47th Street and 7th Avenue. A few men, accompanied by police officers, swung open its back doors, revealing inside a gigantic sculpture of a forearm, its fingers tipped with long red nails. They gingerly pulled it out and placed it on the sidewalk.
A woman appeared, wearing a red dress, with a wide hem, and bulky, fake, tan breasts covering most of her chest.There were teeth, also fake, in between those breasts: a mammary dentata of sorts. The woman was Clarina Bezzola, a Zurich-born artist featured in the Austrian Cultural Forum's current show, "Beauty Contest." She was here to perform a work called When I Walk Alone in the Streets.
The men, a few in clean white suits, strapped the long sculpture to Ms. Bezzola's back, and a crowd began to gather around the scene, following her as she walked north. Small wheels hidden beneath the red nails kept the sculpture aloft, but it glided back and forth, and the men had to direct it around people and lampposts and trashcans.
After walking about half a block, one of the nails popped off the prosthetic, and Ms. Bezzola came to a halt at the corner of 47th and 7th, which was just as well, since it was beginning to rain. "I can't believe I broke a nail!" Ms. Bezzola told the crowd, laughing. The crowd milled about. Tourists posed near the artist for photographs.
As an assistant went to fetch tape for the broken nail, Austrian Cultural Forum director Andreas Stadler popped open a clear umbrella printed with the "I [Heart] NY" logo, shielding the artist from the rain. Once the nail was repaired, the artist set off again, not toward the Austrian Cultural Forum, a few blocks away, which had been the stated plan for the piece, but across the street, toward Duffy Square, by the TKTS bleachers.
The steady rain had thinned the typical crowd somewhat, but seven protesters from the Workers World Party were standing alone in the center of the square, protesting the imminent execution in Georgia of convicted murderer Troy Davis, whom some believe was innocent. Ms. Bezzola walked straight toward them, followed by a throng of about 50 watchers. As we drew close, we could hear their chants.
"We are!" one shouted.
"Troy Davis!" the other six replied.
"You are!"
"Troy Davis!"
Ms. Bezzola walked straight up to the protesters, and they parted, letting her pass through them. A few smiled, but they kept chanting. One turned to Mr. Stadler and could be heard saying, "He's going to be killed in five minutes." It was about 6:55 p.m.
The artist, the hulking hand still trailing behind her, stopped a few feet away from the protesters and began singing, an aria from Puccini's La Bohème, according to accompanying press materials, but it was hard to make out anything because ofthe rain and the protesters and the surrounding noise of traffic and people. As she sang, she walked in a circle, her gigantic hand spinning like a clock's second hand behind her. Occasionally she approached the white-suited men, as if propositioning or seducing them. They stood passively.
After finishing her song, Ms. Bezzola set off north, apparently on her way to the Forum, an umbrella held carefully over her head, protecting her dress and her toothed breasts. The Observer turned around to look at the protesters, who were quieter now.
The seven protesters had laid down on the ground, forming a cross with their bodies, and had propped the poles of their placards on their stomachs, pointing them skyward. The rain was coming down harder now, and they quietly chanted Mr. Davis's name over and over again. A small crowd began to gather around them, watching silently as 7 p.m. arrived.
arusseth@observer.com