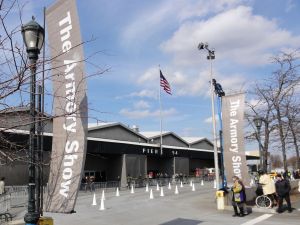 As the Armory Show art fair prepares for next year's edition, in March, and faces down new competition from London's Frieze Art Fair, which will launch a New York edition on Randall's Island in May, its organizers are making major changes.
Katelijne De Backer, who joined the Armory in 2000, has stepped down, fair planners announced today. They also revealed that next year's fair, which alights on Piers 92 and 94 in March, 2012, will feature fewer galleries than last year, and sport a new design conceived by architectural firm Bade Stageberg Cox.
The plans were announced today by Paul Morris, at a press event at the Gramercy Park Hotel, where Mr. Morris, along with fellow dealers Pat Hearn, Colin de Land and Matthew Marks launched the fair — as the Gramercy International Art Fair — back in 1994. (A taste of the fair's second edition, in 1995, is available in the archive of GalleryBeat.) Mr. Morris is replacing Ms. De Backer as head of the Armory, as founding director.
The number of galleries in the 2012 Armory Show will be trimmed by about 40 in the Pier 94 contemporary section and by around 10 in the Pier 92 modern section. In total, the 2011 edition of the fair featured 274 galleries. "Our dealers want us to have a more focused group, with larger spaces," Mr. Morris said. Price points for booths will remains the same, meaning that the Armory will make less money from exhibitors than in past years.
The reduced number of exhibitors, Mr. Morris said, will also allow Bade Stageberg Cox to create open spaces within the halls, which will allow people to congregate and orient themselves in the typically packed, confusing corridors. And there is good news for those who bemoaned the death-defying climb from 94 to 92: that forbidding metal staircase has been nixed. Instead, a passageway of some type will connect the two buildings.
Mr. Morris, who is now the vice president of art shows at Merchandise Mart Properties, the conglomerate that now owns the fair, recalled planning the inaugural fair over Chinese food with Mr. Marks, who remains a prominent Chelsea dealer, and Mr. de Land, who died of cancer in 2003, and said they believed, "If you make choices in the service of art, you couldn't go awry." These new decisions follow that principle, he said.
But there are also more quotidian matters to attend to, Mr. Morris acknowledged, like the difficulty of hailing a cab from the piers. He will be meeting with the Taxi and Limousine Commission. "I probably attend thirty art fairs a year," Mr. Morris said, and he is looking to use innovations he has seen elsewhere for the Armory.
At TEFAF in Maastricht, he acknowledged "men wearing chain mail gloves shuck oysters and pour champagne" for visitors. Before seeing that, he deadpanned, "I never knew my life was so empty." Here's hoping we get some of that.
But there is plenty of work before then: next up for Mr. Morris is the launch of Merchandise Mart's inaugural Los Angeles fair, Art Platform, on Oct. 1. "I think it's L.A.'s time," he said.