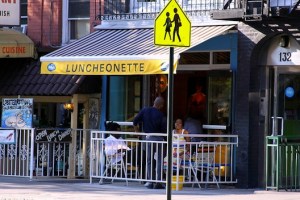 A week ago, The Observer took a look at Miss Lily's, a Jamaican jerk joint on Houston Street that's unleashed the anger of Anna Wintour. She lives next door, and she was worried it would become an all-night hotspot. And it sort of has. Too bad all the fashion models love the place!
But there's no mention of the Vogue editor's dissatisfaction in Sam Sifton's review of Miss Lily's in today's New York Times. Instead, the outgoing restaurant critic waxes eloquent on the model-heavy spot's resemblance to Florent, the beloved Meatpacking District greasy spoon diner that closed a few years back.
So, does it measure up? Let's see what Mr. Sifton has to say.
The restaurant draws a (mostly!) corresponding clientele that can spur memories of Fashion Week crowds at Florent. Nearly everyone in the place appears tall and casually elegant; friendly, but a little otherworldly, as if resident in a game preserve. Very few people on Earth can eat jerk chicken and look as the people at Miss Lily's do.
Sounds familiar to us! But what about the food, Mr. Sifton?
Mr. Thompson's smoked mackerel salad is also impressive: large moist flakes of the fish predominate, with a sweet bed of fresh greens and tangy pickled onions to bridge the two textures. If he served it to you in the main saloon of a yacht tied to a dock in Miami, you would be happy indeed, before pouring another glass of Sancerre and padding barefoot up to the flybridge to watch the stars. On Houston Street, served by what looks like a supermodel, you can achieve a similar state of mind.
But, in the end, he isn't too kind to the menu offerings, saying that "so much of the rest of the food falls short." We happened to like the spicy jerk dishes, but regardless, we don't think a negative review of Miss Lily's will alter the clientele too drastically. Hopefully you're attractive enough to "eat jerk chicken and look as the people at Miss Lily's do." That's all we ask.