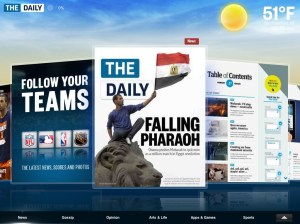 After only a month on Bloomberg's media desk, Edmund Lee, formerly of AdAge, has already solved one of the industry's biggest mysteries: How's The Daily doing?
It's averaging 120,000 readers a week, an advertising executive working with them told him. That's less than a quarter of the half a million readers Rupert Murdoch said it needed to be profitable at its launch back in February.
Not that profitability is a daily concern at News Corp. It's only been a year and, as Newsonomics' Ken Doctor points out, it's a useful R&D experiment. And they employ lots of writers at a better-than-living wage, we add!
The 120k figure includes people who pay and those who don't (there were a lot of gift subscriptions early on) and, according to Daily sponsor Verizon Wireless,  Daily executives won't tell advertisers how many of those are paid subscribers. The number will likely climb at least a little soon, as The Daily just launched a Facebook edition and will be on Android-powered tablets in three weeks.
All News Corp. has officially said about its performance is that it has been downloaded more than 1 million times as of the end of June.
The rate base is $100 for every thousand people who view a page, several times the rate for most high-end publications, but they trick it out with animation!